Home >> Oaxaca >> Huatulco >> Flight to Huatulco 2016 >> Veracruz to Huatulco



Veracruz to Huatulco

Flight to Huatulco 2016

January 2016
< Brownsville to Veracruz | Veracruz to Huatulco | Huatulco to Veracruz >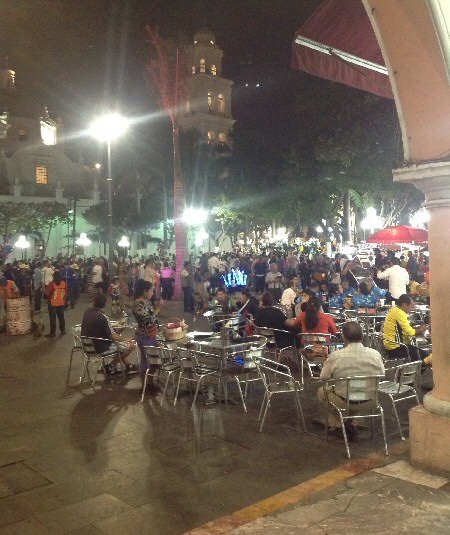 Saturday night at the main zócalo in Veracruz
Weather
The flight to Huatulco will have to be done under VFR (visual flight rules) because the high terrain makes the required IFR altitudes out of reach of our airplane. This means I will have to fly above, below, or around clouds and there will be clouds. I filed a VFR flight plan for 12,500' and was issued a printout in that cryptic shorthand that I had to learn to read to get my pilot's license but haven't seen since. But the airport official said it was good news. There does seem to be quite a bit of cloudiness in the vicinity of Veracruz now.

So I have now decoded my official weather printout and it says the current conditions at Veracruz are a scattered layer at 2000', another scattered layer at 7000', and a broken layer at 20,000' but it looks a cloudier than that to me. The Huatulco terminal area forecast is calling for scattered clouds at 3000' and broken clouds at 25,000'. I know from past experience to expect broken clouds at 4000' to 8000' along the slope of the Sierra Madres just a few miles away from the Huatulco airport. The terminal area forecast for Oaxaca, which is in the mountains just to the west of the route, is scattered clouds at 3000' and broken clouds at 20,000'. Scattered means less than 50% coverage which is easy to climb or descend through without losing visibility and broken means more than 50% coverage which could be difficult or impossible to fly through while maintaining VFR.
Flight Plan
I filed a VFR flight plan for 12,500' altitude with a duration of 1 hour 50 minutes and noted that I would fly to the west of the highest terrain. Huatulco has some very high terrain just north of the airport so the best thing to do is to avoid that either to the east or the west. My plan is to go around the west side and fly to Punta Cometa, a prominent landmark that juts out into the Pacific. After that we would fly along the coast back to the east to Huatulco taking photos along the way that would include Puerto Angel, our final vacation destination. This would be 228 nautical mile trip and I allowed 1 hour 50 minutes for the flight considering that we would be flying slower due to much of the flight being at high altitude. We will use oxygen on this flight because of the high altitude. We can legally make the flight without oxygen but we use it because this kind of flying often leaves us with a headache that can last for as much as 24 hours if we don't use oxygen--not a good way to start a vacation. On previous flights there has always been a broken layer of clouds along the southern slope of the Sierra Madres. I have always failed to get below the clouds and arrived at the near sea level airport at about 10,000' and then had to circle downward for a long time before landing. On this trip I am going to try a little harder to fly down the southern slope below the clouds rather than above.

We took our time in the morning so didn't get to the airport in time for a morning takeoff. There were quite a few clouds so it looked like it might be a little tricky to get above them to cross the mountains.
The Flight
Takeoff: 12:10 pm Landing: 2:34 pm Duration: 2 hours 24 minutes

We taxied to runway 36 and waited for a departing aircraft and then an arrival before back taxiing for takeoff. After takeoff I immediately began looking for an opening to climb above the clouds. We got above the clouds at about 10,000' and I could see that this level was consistent in the mountains with the highest peaks protruding above. We set a course for Punta Cometa.

As we approached Oaxaca near the midpoint of our trip, I contacted Oaxaca Approach and talked to them until we reached our reporting point abeam the Oaxaca airport and about 40 miles to the east. As we approached the southern slope of the Sierra Madres I descended as low as practical to set up for a descent beneath the cloud layer. I found my way below the broken cloud layer in a valley which was the headwaters of the Río Colotepec. This river takes an easterly course and I was preferring to go south so I watched for an opportunity to cross the ridge on the south side of the valley. The clouds were never more than a few hundred feet above the ridge and I didn't see a clear path to the coast so I continued to follow the valley down to the lower elevations. The river goes to Puerto Escondido and I almost had to fly that far before I was able to turn south to the coast. This put me about 25 NM west of Punta Cometa and added to my flight time. I flew east toward Huatulco along the coast at 1000' and took a few hundred photos of the coast.

We arrived at Huatulco 34 minutes late and entered a left downwind for runway 25. We landed and the controller said "Welcome to Huatulco". The controller is very nice here.
The Huatulco Airport
There was one other small airplane at the airport and there were 3 commercial arrivals while we were there. There was also a U.S. Coast Guard helecopter there which seemed very odd. Huatulco is a long way from home for a U.S. helecopter. Perhaps it was just painted to look like one.

The airport appears to have become busier since our last visit. We tied down the airplane and put the cover on. There are hooks only for the wings, not the tail, and no ropes but we brought our own. We were approached by the military representative and asked for our basic information. This happens at every airport and in the past I have printed out slips of paper with the aircraft type, tail number, pilot's name, pilot's license number to hand to them because they never speak English. Then the only other thing they need to know is where the flight originated. I forgot to do that this time.

We gathered our luggage and made our way to the general aviation terminal. It took two trips. I tried to close my flight plan but they said that wasn't necessary. It is looking like they don't do that any more. You used to have to fill out a half-page form to close each flight plan. At this airport some offices, like the Commandante, are indoors while others, like Operaciones, are outdoors. This involves trips in and out of the terminal but fortunately they don't feel the need to search us every time at this airport even though they do search their own personnel.

The Airport Taxi: The Huatulco airport has a reputation for very expensive taxi service costing three times the regular rates. If you are just going into Huatulco that isn't too significant but if you are going to another town like we were that could cost US$100. There is the option to walk to the front gate where there are cheaper taxis but that is 1/4 mile and its hot and we have a lot of luggage. I had also considered taking a taxi into Huatulco then getting another taxi to take us on to Puerto Angel but that would involve some extra loading and unloading. So I had decided to just play it by ear and see what the present rate was to take a taxi directly to Puerto Angel. The security guy called a taxi for us and he came to the general aviation terminal and we loaded our bags. It was an SUV type vehicle that has a space in the back where they could either fold down seats to carry extra passengers or carry luggage. All our stuff fit back there. It was a nice late model taxi with air-conditioning. I enquired about the rate to Puerto Angel. It was $850 pesos which is US$46. The non-airport taxi rate is $400 pesos or US$22 and would involve a more vintage model vehicle with less luggage space and probably no air conditioning. So we went with the airport taxi. The driver took us to the airport taxi office where I purchased a ticket and off we went to Puerto Angel. I can add that our driver seemed to be a cut above the typical taxi driver, being courteous, professional, and a better driver. So after this experience I have revised my assessment of the Huatulco Airport taxi situation on the tomzap.com web site. I no longer call them the "taxi banditos" and while the rates are double, some of that can be attributed to better equipment and service.
Photos
Here are some photos taken enroute to Huatulco, Mexico, from Veracruz, Mexico.


Departing Veracruz, one minute after takeoff. 12:11 pm


Here we are picking our way through the clouds trying to get on top. 12:28 pm.


Veracruz harbor, 2 minutes after takeoff. 12:12 pm


Coming up on top of the cloud deck. 12:28 pm


Approaching the Sierra Madre at 12,500'. 1:16 pm


Crossing the Sierra Madre. 1:16 pm


Looking to the east. 1:17 pm


Peering into the Valley of Oaxaca. 1:28 pm


Valley of Oaxaca. 1:30 pm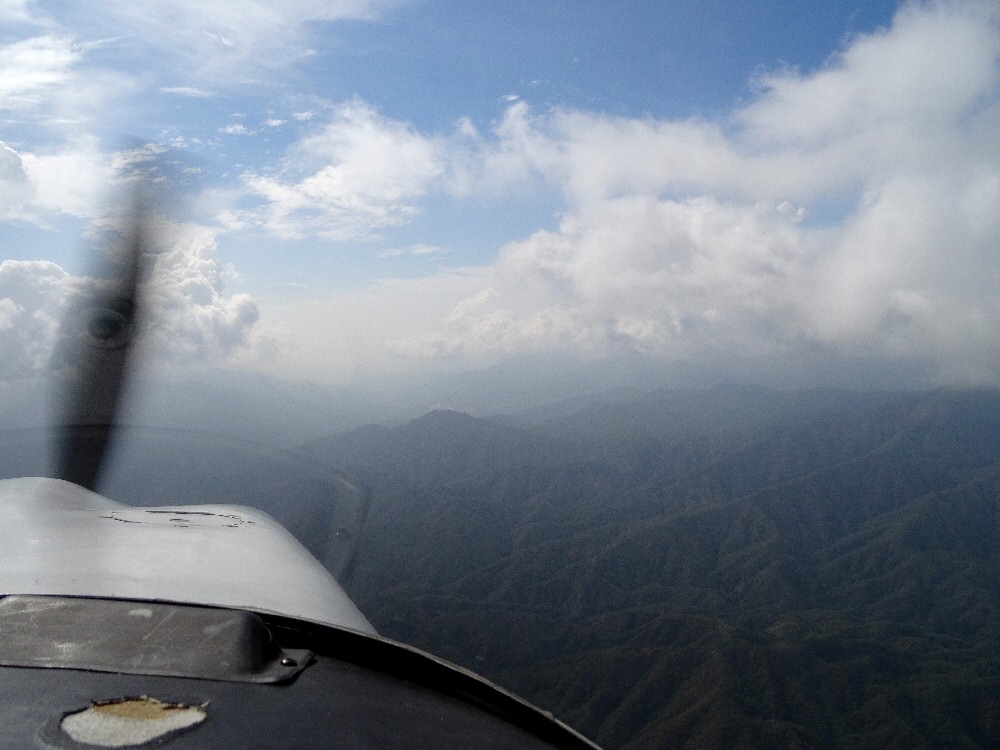 Setting up to descend the south slope of the Sierra Madres below the cloud layer. 2:01 pm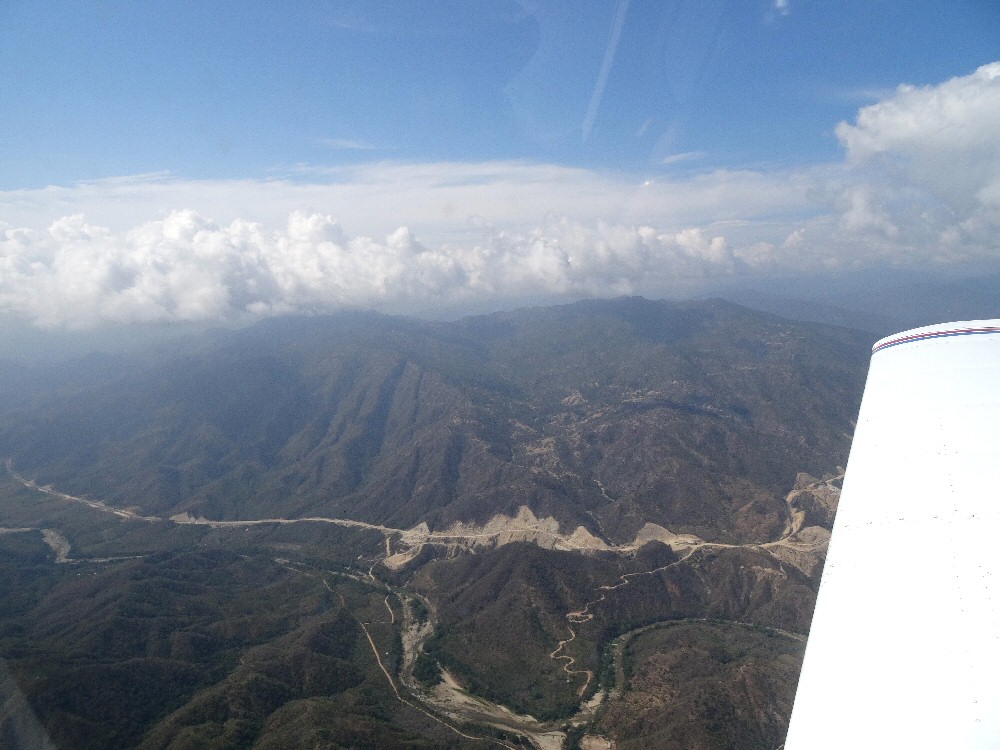 Construction on the new Oaxaca to Puerto Escondido highway.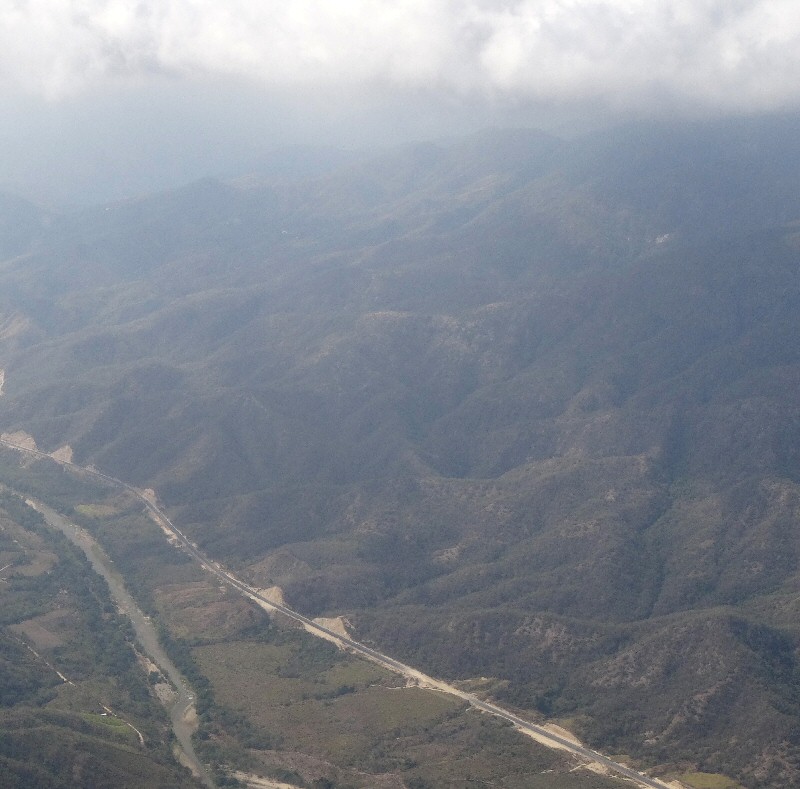 A paved section of the new highway alongside the Río Colotepec. 2:05 pm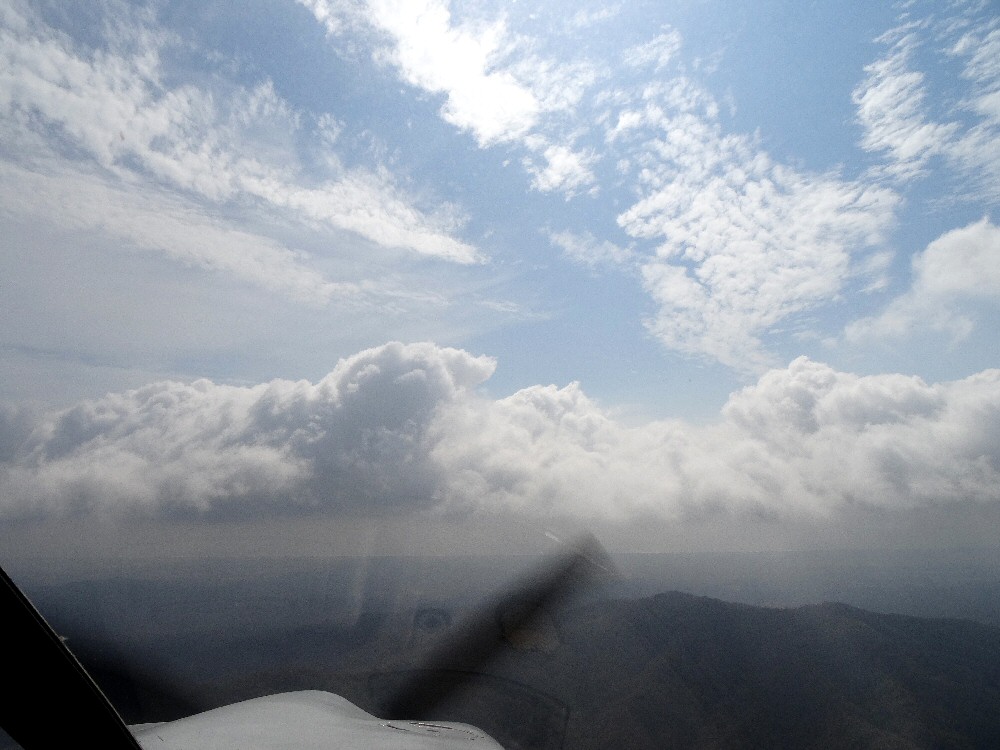 Coming through the last of the clouds with the Pacific coast in the background. 2:08 pm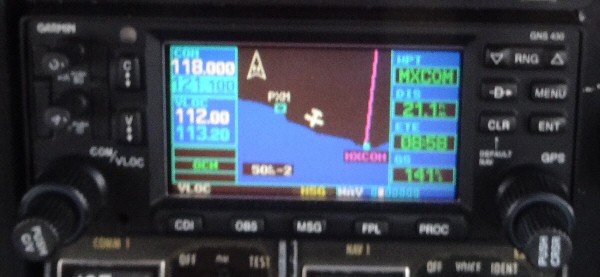 So here we are at the coast but closer to Puerto Escondido than to our target, Punta Cometa. 2:08 pm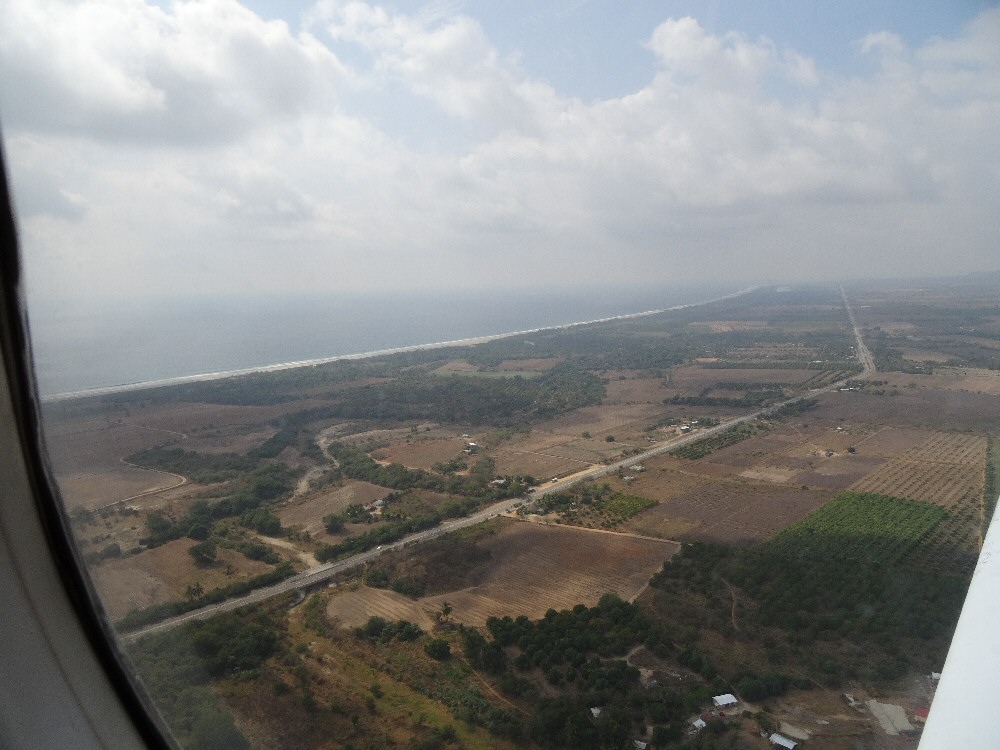 Arriving at the coast at a reasonable altitude. 2:10 pm
See the photos taking along the coastline of Punta Cometa, Playa Ventanilla, Mazunte, San Agustinillo, Zipolite, Puerto Angel.
Next leg is the return trip, Huatulco to Veracruz
---
| Top of page | Main index | Search | What's new |