Home >> Oaxaca >> Oaxaca, Oaxaca >> Flight to Oaxaca
Flight to Oaxaca

February 2011
by Tom Penick
Email: tom@tomzap.com


Disclaimer:
The information presented here is of an anecdotal nature and is not intended to be used as a substitute for flight planning information from official sources.
Flight to Oaxaca | Georgetown to Corpus Christi >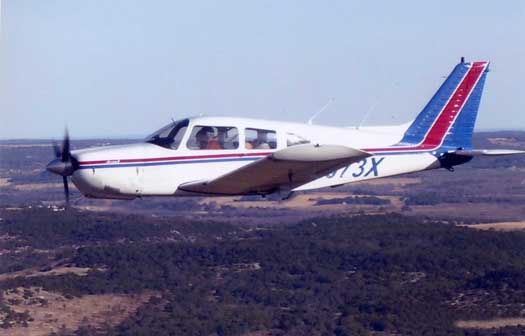 Our Piper Arrow

Although I have been a pilot for many years, my flights into Mexico began only a few years ago. The first was to Huatulco, Oaxaca, the second to Puerto Escondido, Oaxaca, and the third to Manzanillo, Colima. This is my fourth flight into Mexico.
Preparation
It is February 2011 and I have postponing the flight for several months. The route of flight will be similar to the flights to Huatulco and Puerto Escondido. We will enter Mexico at Tampico and stay there overnight for an early morning flight over the mountains to Oaxaca.

Liability Insurance: I must have Mexican liability insurance for the aircraft, similar to the requirement for automobiles. Our insurance agent does not provide this insurance and referred me to MacAfee and Edwards.

Aeronautical Charts: I am using WAC charts obtained from Caribbean Sky Tours. There are two WAC charts, Acapulco - México and Monterrey - Nuevo Laredo, that cover the entire Mexico portion of the route. I prefer to scan the maps, edit on the computer, and print them out on letter-sized paper. OaxacaWACCharts.pdf (2.7MB)

Approach Plates and Enroute Low Altitude Charts: Approach plates and enroute low altitude charts (2 charts cover all of Mexico) are available in an IFR package by Jeppesen. This is a one-time trip kit that has all the terminal charts, approaches, departures, Low Enroutes and High Enroutes for Mexico. It covers all airports in Mexico. The set is on a 2-week update schedule so it is only fully current for 2 weeks. It may no longer be purchased online from Jeppesen but can be purchased from mypilotstore.com for about $100.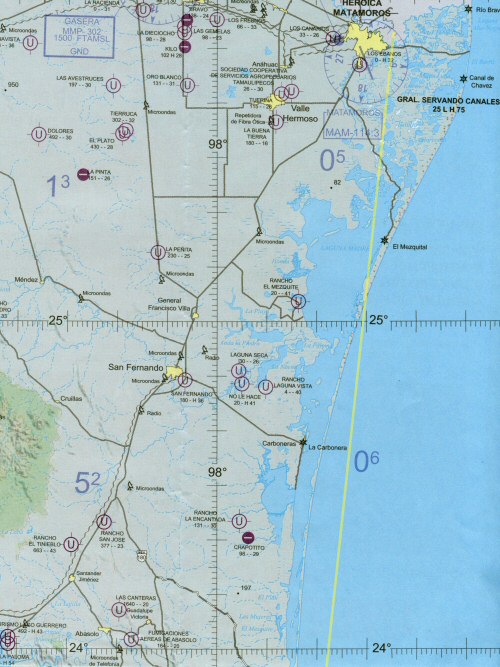 A scanned portion of the Nuevo Laredo WAC chart showing route. On previous trips we have seen numerous whales along this portion of the route. The complete route is in a .pdf file OaxacaWACCharts.pdf (2.7MB).
Crossing the Border into Mexico
I plan to fly from Corpus Christi, Texas to Tampico, Mexico, on an IRF flight plan which will have me crossing the border at Brownsville, Texas. The requirement is that either I be on an IFR flight plan or else a "defense" VFR flight plan. I prefer the IFR flight plan because I don't have to worry about notifying air traffic control about my border crossing--they already know. When we arrive at Tampico, we will go through customs and immigration where my passengers will get their tourist visas. The pilot doesn't need one.
Flying in Mexico
Flight Rules: There are some differences in the flight rules in Mexico. All flights must be on a flight plan. All flights at night must be on an IFR flight plan. The airport officials, usually the commandante or an assistant, fill out your flight plan for you. A local flight uses a shorter form.

Weather: Weather information is a big problem. Mexico lacks the aviation weather service that the pilots in the United States are accustomed to. You may get a printout with a line or two of the cryptic coded format that we learning in flying school but haven't seen since. Other than that you are on your own in obtaining weather information. Some possible sources are CNN, online radar and satellite sources, the NWS, the links at the top of this page, the links below, and calling up someone at your destination and asking them to have a look outside.

Current weather information is available from the National Weather Service in the U.S.

Fuel: Fuel is sold only at towered airports and is priced similar to the fuel at large U.S. airports. The cost of airport use is incorporated in the cost of fuel. Some airports will accept some credit cards; Tampico does. Cash in pesos is always accepted.
The Route of Flight
We will fly from Georgetown, Texas, to Corpus Christi, Texas, where we will refuel. That flight will take one hour 50 minutes. The next leg is from Corpus Christi to Tampico, Mexico, on an IFR flight plan. That flight takes 2 hours 45 minutes. Tampico will be our "airport of entry" where we will get the paperwork done to admit the airplane and pilot to Mexico and issue visas for the passengers. Just about any large airport in Mexico can serve as the airport of entry and we have found the Tampico airport to be a very good choice due to the layout of its offices (all together) and the fact that they are staffed all day.

We will stay overnight in Tampico and leave early in the morning for the final leg to Oaxaca. As a general rule, a morning flight through mountains is pleasant; an afternoon flight is unpleasant. That flight will take 3 hours 35 minutes. For this flight I have to thread my way between two restricted flight areas and I have created a user waypoint for that, MXLEN 19°24'N 97°05'W. Then on past Mt. Orizaba, a very prominent snow-capped peak that marks the halfway point. Another user waypoint, MXORZ 19°00'N 97°09'W, takes me around the east side of the mountain. From this point I have the option to fly down the valley into Oaxaca or fly along the mountain tops.

Waypoints (user-created):

As usual, I will be taking a lot of photos. And just in case we decide to visit the coast, I'll take along WAC charts for Huatulco and Puerto Escondido.
Next is Georgetown to Corpus Christi Flight
This page has been visited times since February 13, 2011.
---
| Top of page | Main index | Search | What's new |