Home >> Oaxaca >> Puerto Escondido >> Pelota Mixteca
Pelota Mixteca

Modern version of a traditional game

December 2005: Good news; the Mixtec ball game has a new cancha here in PE. It is on the way to La Colonia Libertad passed the school Primaria 16 de Septiembre, second street to the right and then one more block to the left. They will play Sundays at 4:30 P.M. Contact Gina for more information.
The ball court pictured below (it isn't the new one) is located near an area called Malucano, not far from Puerto Escondido. Pelota Mixteca games are held in August on Sundays at 5pm and on festival days. Two important dates associated with the game are May 3, in honor of Santa Cruz, and on August 4, in memory of Santo Domingo de Guzmán.
The game of Pelota Mixteca dates from pre-Colombian times and is similar to the tennis, only with five players (sometimes nine) per team. It is played with a ball made of rubber, stocking thread and suede lining weighing about 330 grams. The players pound the ball back and forth using large, elaborately decorated suede gloves weighing between 7 and 12 pounds. The ball can only bounce once.
The game begins with a serve consisting of a rebound in a stone on the ground at the player's feet. The first rebound should land in a square called cajón at mid-field. The player called el Bolillero can return the ball without it hitting the ground, which is known as "de Bolea". Generally, the shots are so strong that at times the game is only carried out among the Bolilleros or between el Resto and el Contrarresto. It is hard to describe the shouting and the joy of the spectators when this happens. Only when the ball is intercepted in the center of the game field, the dispute is settled among los Rayeros. A match can last up to 4 hours.
The referees of this sport are called Chaceros who insure that the teams respect the rules. Each team needs to win four balls to make a game and it should win three games to make un partido. Pelota Mixteca is a true sport with its own rules that are rather complex for the casual spectator.
Other places you can find the game played are at Bajos de Chila, 15 minutes northwest of Puerto Escondido, regularly on Saturdays and Sundays and during their annual St. Valentine's celebration in early February. A national tournament may be held in Chila in May.
Contact Gina, the Information Goddess, for more information.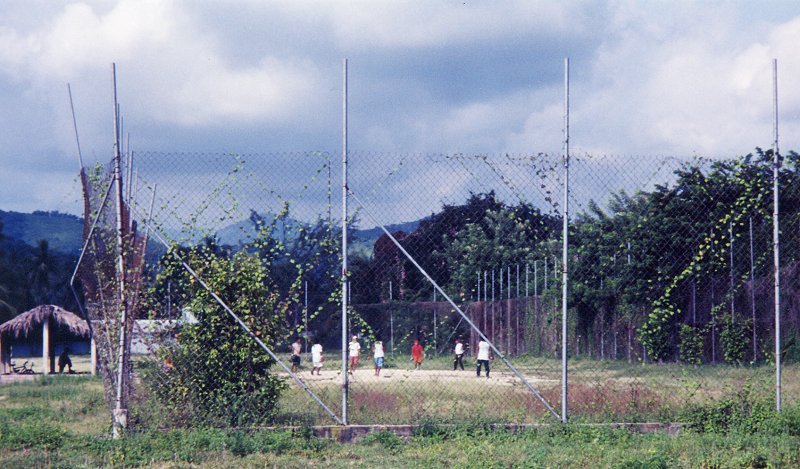 Mixtec Ball Court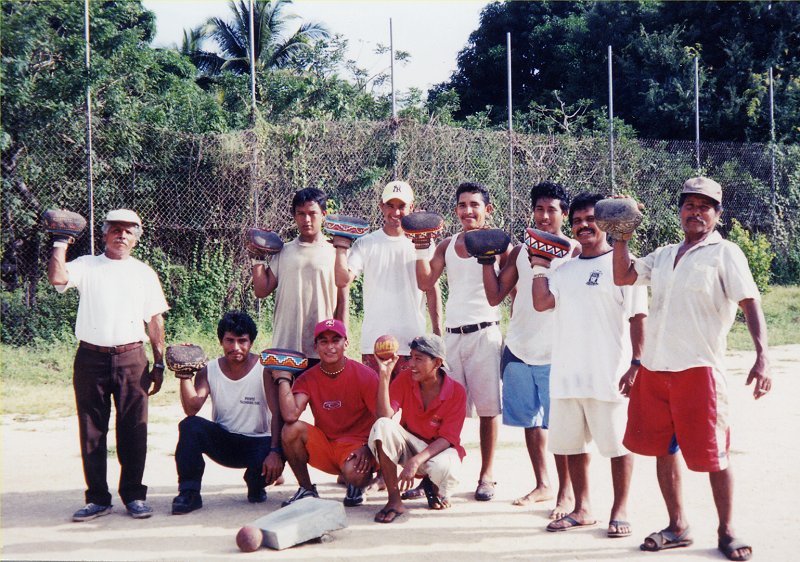 Mixtec Ball Team
This page has been visited times since October 24, 2006.
| Top of page | Main index | Search | What's new |
---
The Pacific Coast of Mexico

www.tomzap.com

Tom Penick:&nbsp tom@tomzap.com