Home >> Oaxaca >> Santa Catarina Cuixtla
Santa Catarina Cuixtla

GPS: 16°18'N 96°38'W
Elevation: 5775' (1760 meters)
Cuixtla means where there are many sparrowhawks. Santa Catarina Cuixtla is located 8 km west of Miahuatlán at an altitude of 1760 meters (5775 feet). Miahuatlán is located on highway 175, 122 km north of Pochutla, 28 km north of San José del Pacifico. A religious festival is held May 3.
For more than 100 years this town has been embroiled in a land dispute with the neighboring town of Santa Cruz Xitla. This conflict has been a burden on both towns and has forced many residents to abandon their property and move away from the area in search of a better life. Little is known of the founding of Santa Catarina Cuixtla but it is believed that the first residents arrived in 1430.
Earlier area inhabitants have left two archaeological sites and ancient roadways made of stones.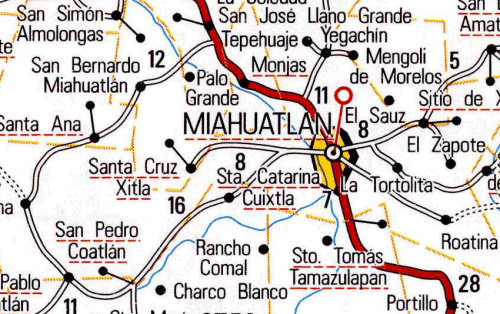 ---
| Top of page | Main index | Search | What's new |

The Pacific Coast of Mexico

www.tomzap.com

Tom Penick:&nbsp tom@tomzap.com