Home >> Oaxaca >> Buena Vista
Exploring Oaxaca

An excursion to the Albergue of Buena Vista

by Sheila Clarke palomaspto@yahoo.com
March 2007

Sheila Clarke, who has been teaching English in her own small language institute in Puerto Escondido since 1993, writes a monthly letter/essay for her family and friends. This year she is on sabbatical with a plan to visit parts of Oaxaca unknown to her. In her March 2007 letter she wrote about her recent visit to Buena Vista. - tomzap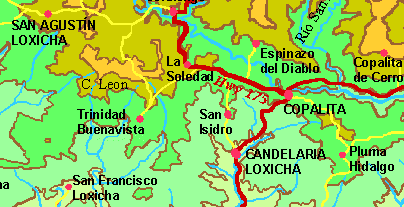 Buena Vista is a small Zapotec community located about 10 km west of Hwy 175 in a remote mountaneous region. See larger, clickable Regional Map

I've begun my exploratory trips to parts unknown of Oaxaca. My first adventure came about quite unexpectedly. Having stopped to see some wooden birds in a carpenter's workshop, I found out that Octavio, the carpenter, and his wife, Yolanda, make weekly trips to Buena Vista, a remote pueblito in the Sierra Loxicha. Yolanda is the cook and a caretaker at an albergue, a kind of boarding facility for children who walk more than an hour and a half to get to school. The children arrive on Sunday night and return home on Friday afternoon, going forth each week day to attend schools in tiny Buena Vista.

Octavio, Yolanda, Daniel and I left on a Sunday afternoon in a small, beat up pick-up. I hadn't known about Dany, who at 4 with Downs Syndrome, is the size of an 18 month old, and profoundly retarded. Dany makes the weekly 10 hour round trip commute (one way in the pick-up and back home via two buses) with his mother, because Yolanda can keep an eye on him at the albergue. And the reason Yolanda works so far from home is that her job provides health insurance which covers Dany; it would be difficult or impossible to obtain the same coverage with other work.

When we arrived after five hours, the last hour of which was over a rocky, narrow road, it was very nearly dark. I met all forty-nine of the children, the oldest of whom is 15. Their first language is Zapotec. Some were very shy, and why not? Most of the kids have never seen anyone as odd looking as I am. The boys, however, were all over themselves showing me every trick they could think of to impress me--splits, hand-stands, headstands, summersaults, whatever. "Look at me! No, look at ME, at ME!" I reciprocated with my exceptional talents: crossed eyes, ear wiggling, bicep making, throaty, guttural sounds, and tongue clicks. (A wonderful song, "'Gak Gung' Went the Little Green Frog," is perfect for entertaining kids.) That night, and throughout my stay, the question, "¿Cómo se dice _____ en inglés?" was constant. I barely had time to translate one word when another flew at me. Giggling, nearly beside themselves, these Zapotec-speaking children were delighted repeating words in English.

Yolanda, having made a fire in a lorena, a large wood-burning adobe stove, served watery coffee and dry "toasted" bread in the rustic dining room. With very low wattage light bulbs to illuminate any activity, and with everyone exhausted from their long treks to reach the albergue, we were all asleep by 9:30.

Monday I awoke early, having slept fitfully in a bunk bed in the older girls' dorm which houses twelve. In the chilly dawn, I made my way slowly down the steep ramp to the bathrooms, hoping not to stumble. The bathrooms are basic, equipped with door-less johns, cold showers, and scarcely running faucets. Foregoing the shower which is mandatory for the students, I wandered around enjoying the spectacular mountaintop scenery, then joined Yolanda and her assistant in the kitchen. Yolanda prepared avena (oatmeal), which was like a watery gruel, and eggs. Caro made tortillas. The kids never turned up their noses at anything they ate.

Before and after school, the elementary aged students fly up and down the ramp and sides of the hill on either side of it. Ball kicking is constant, as they hone their soccer skills. What happens when it rains, I wonder? The children, young and old, are responsible for washing out their uniforms every night. Big kids help the little ones.

After breakfast, some students accompanied me to the tele-secundaria, "just down the hill. Look! you can see it from here!" (a twenty minute hike on steep paths), a junior high which uses TV instruction at times during the school day. I was impressed with the new principal, Tomás, who showed me the six classrooms and asked a teacher if I could drop in.

I decided a while back that it would be fun--and a way to contribute--if I were to teach in these little towns using a one page lesson I've prepared...provided they want me to, of course. It was almost time for English in the class I visited, so I taught the song "Head, Shoulders, Knees and Toes", as well as some other basic English. It was great fun, and the kids were really good.

I took my leave and returned to the albergue to change clothes for the steep climb to the plaza, to the disproportionately large church, to the city hall, to all the little empty shops, the high school, and to the small market. Buena Vista is suffering. The bottom fell out of the coffee market several years ago, and that's what had sustained it. Most young people, those who aren't studying, have left, either for the U.S. or for other parts of Mexico. I taught a bit at the high school (in a hot, wooden slat sided classroom with at least forty students) and then headed back to the albergue.

Lunch was something completely mysterious. I've no idea what we ate. It wasn't yummy, but the kids ate with gusto. After lunch three girls guided me to the primary school, "not too far away." Half an hour later, up hill and down dale, we arrived. Half an hour, when one walks up to four hours to get to town, is, for sure, "not too far away." The albergue kids, showing much pride of "ownership", were adorable. I taught counting in English, as well as some body parts in three classes and then played basketball at recess. During recess I complied with "my" children's request to show their classmates all eye, ear, and throat tricks. My digital camera was a huge success. Young and old love to see themselves on the small screen.

Returning once again to the albergue, I stopped at Buena Vista's nearly vertical cemetery and climbed around. Cemeteries talk. Through them I learn who the rich and powerful are, I learn about the economy based on the elaborateness or simplicity of the tombs; colors and materials also give me information about the residents of a town.

On leaving the departed to rest, I heard strains of "When the Saints Go Marching In"--an appropriate coincidence. Curious, I climbed some stairs to an "escuela de música" where I found one small room packed with teen-aged musicians sans their conductor. I asked if they'd play "Saints" for real. They were terrific! Such talent, not to mention decent instruments, in a tiny town.

I decided to spend just one more night and rose at 4:00 a.m. so that some of the older boys could accompany me to the "nearby" bus stop in the pre-dawn darkness. I spent the wait talking to the mayor of Buena Vista who knew from fast moving gossip that I was in town. At 5:30, a '50s vintage bus rumbled down the road from an even more remote ranchito to pick us up. The bus was completely full at that ungodly hour. We squeezed in and stood for more than an hour, as the bus creaked and swayed down the mountain. Hanging on for dear life, I warily watched our progress through the cracked windshield, hypnotized by a white stuffed bear swinging drunkenly from just above the driver's head, not infrequently butting a lucky goat's foot suspended nearby. I finally connected to another bus in a town 45 minutes or so from Puerto and arrived home pooped, with a cough and bedbug bites. Much more significantly, though, I returned filled with admiration for kids who want to study so badly that they suffer albergue life and walking miles and miles to school when they're just little tykes.

Since that initial trip, I've made two more--one was an all day excursion to San Gabriel and Juchatengo, and the other, an overnight adventure to Putla, a town of about 20,000, nearly seven hours NNW of Puerto, with hour-long stops in two much smaller towns along the way. I've taught everywhere I go, and have had much encouragement to continue doing so. (As I approach a school, I have a moment of doubt. "What's the worst that could happen?" I ask myself. Well, they could be offended or suspicious and say, "No! Go away!", but, in fact, I've been graciously welcomed.)

When I dreamed my sabbatical, I thought I might visit between 50 and 60 communities. Owing however, to the uncertainties of transportation, lodging, weather and other factors, I know now that my aim was probably high. Anyway, it remains my goal to make day trips one week, and the following week, I'll go far enough afield to spend a night or two. I've learned so much in just a few weeks. I'll keep on trucking, striking up conversations on buses, in the back of pick-ups, in collectivo taxis, in moto-taxis (the tuk-tuks of Mexico), in shops, in schools and on the street.
---
Buena Vista is located in the Loxicha region, an area with 35,000 inhabitants in 32 communities, the majority of which are illiterate and speak their native indigenous language. Attention focused on Loxicha in 1996, when a band of 80 rebels carried out an attack on government buildings and employees in the resort town of Huatulco. Facades were peppered with automatic weapons fire and 9 were killed, including 2 of the rebels. The event was coordinated with 6 other attacks in other states in Mexico. When one of the dead rebels was identified as the San Agustín Loxicha tax collector, a convoy of 43 military transports carrying 400 troops descended on the Loxicha region, making numerous arrests. Arrests were made in San Agustín Loxicha, 10 km NW of Buena Vista (as the crow flies), and in Magdalena Loxicha, 15 km SW of Buena Vista. Arrests included two school teachers. The Oaxaca Teacher's Union, Sindicato Nacional de Trabajadores de la Educación (SNTE), is a potent political organization that has been associated with events that turned violent such as the 2006 Oaxaca Protest. More on the 1996 Huatulco Massacre. - tomzap
This page has been visited times since April 22, 2007.
---
| Top of page | Main index | Search | What's new |

The Pacific Coast of Mexico

www.tomzap.com

Tom Penick:&nbsp tom@tomzap.com