Home >> Jalisco >> Tenacatita >> Playa Mora
Playa La Mora

Tenacatita, Jalisco

to the west

Careyes, Jalisco
Playa Tecuán, Jalisco
Yelapa, Jalisco


to the east

Barra de Navidad, Jalisco
Boca de Iguanas, Jalisco
Cihuatlán, Jalisco
Cuastecomates, Jalisco
La Manzanilla, Jalisco
Melaque, Jalisco
Tenacatita, Jalisco

Main Index • Beach Index
Jalisco Weather
Consumer Protection
Currency
Mosquitos
Telephone Calls
Transportation
Visitors' Comments
About • Home • Search

Playa La Mora is a small beach located just to the west of Tenacatita. RVers negotiate a steep dirt road to gain access to this beach.

Playa la Mora is a narrow strip of beach at the west end of Tenacatita with the Pacific on both sides.
Scroll, if necessary, to see the full photo.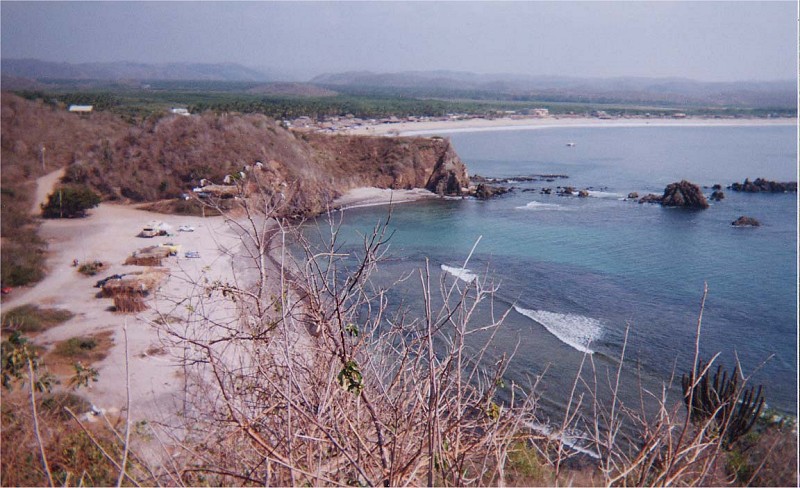 Playa la Mora in the foreground with Playa Tenacatita in the background. Photo submitted by Michael Carpinelli.
If you have information to add about Playa La Mora, please email me at tom@tomzap.com.
---
| Top of page | Main index | Search | What's new |
---
The Pacific Coast of Mexico

www.tomzap.com

Tom Penick:&nbsp tom@tomzap.com