In March 2009, we went on a tour of the Manialtepec lagoon with Michael Malone, Canadian ornithologist and tour guide. Michael is in Oaxaca during the winter months giving nature and culture tours. From the spring through the fall he operates Pelee Wings Nature Store in Point Pelee, Ontario, Canada.

Here is a video clip of part of the boat ride through the Laguna de Manialtepec.

Here are some aerial photos of Laguna Manialtepec.






On this tour we encountered the following wildlife:
Brown Pelican
Neotropic Cormorant
American Anhinga
Magnificent Frigatebird
Bare-throated Tiger-Heron
Great Blue Heron
Great Egret
Snowy Egret
Little Blue Heron
Tricolored Heron
Cattle Egret
Green Heron
Black-crowned Night-Heron
Yellow-crowned Night-Heron
Boat-billed Heron
White Ibis
White-faced Ibis
Wood Stork
Black Vulture
Turkey Vulture
Black-bellied Whistling-Duck
Muscovy Duck
Blue-winged Teal
Osprey
Common Black-Hawk
Common Moorhen
American Coot
Black-necked Stilt
Northern Jacana

Spotted Sandpiper
Laughing Gull
Royal Tern
White-winged Dove
Inca Dove (heard)
Orange-fronted Parakeet
White-fronted Parrot
Squirrel Cuckoo
Groove-billed Ani
Ferruginous Pygmy-Owl (heard)
Lesser Nighthawk
Citreoline Trogon
Ringed Kingfisher
Belted Kingfisher
Green Kingfisher
Golden-cheeked Woodpecker
Great Kiskadee (yellow)
Social Flycatcher
Tropical Kingbird
White-throated Magpie-Jay
Gray-breasted Martin
Northern Rough-winged Swallow
Rufous-backed Robin
Great-tailed Grackle
Yellow-winged Cacique
Mangrove Crab
Chatia water snake
Green Iguana
Rock Iguana
For a complete list of birds you might find on a lagoon tour, see M. Malone's List of Birds.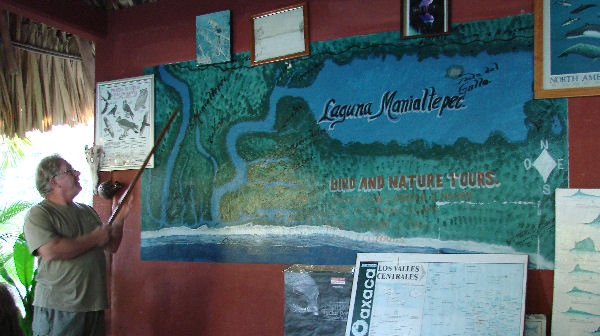 Michael Malone gives a pre-tour briefing at Laguna Manialtepec.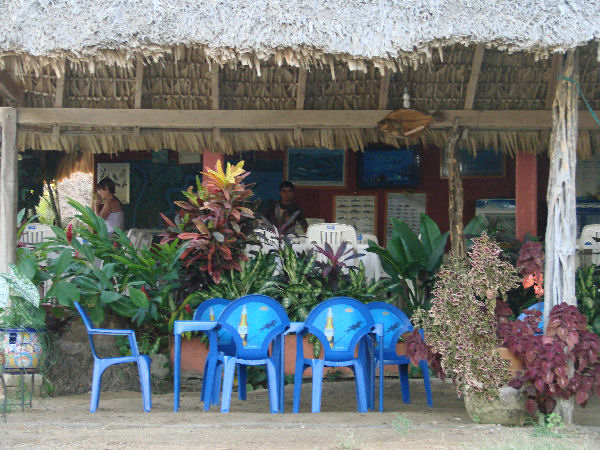 La Flor del Pacifico restaurant in the village of Las Negras on the coast highway #200 on the
shore of Laguna Manialtepec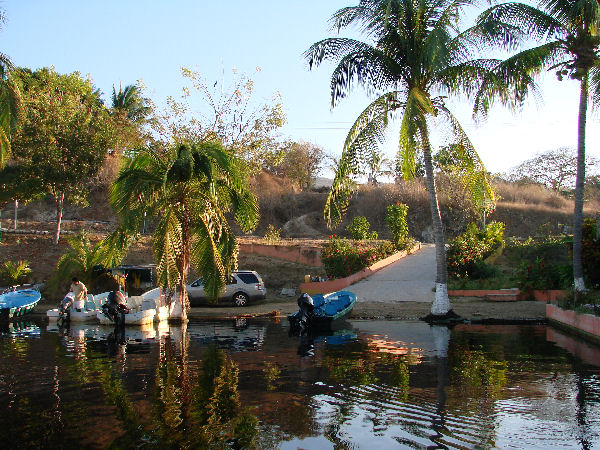 This is where the eco-tour started in the fishing village of Las Negras