Home >> Oaxaca >> Oaxaca, Oaxaca >> Cuajimoloyas, Oaxaca >> Oaxaca Mexico Food Festival: Mushrooms
Oaxaca Mexico Food Festival Magically Combines Mushrooms with Ecotourism, Study & Cuisine

Article by Alvin Starkman of Casa Machaya
See more articles by this author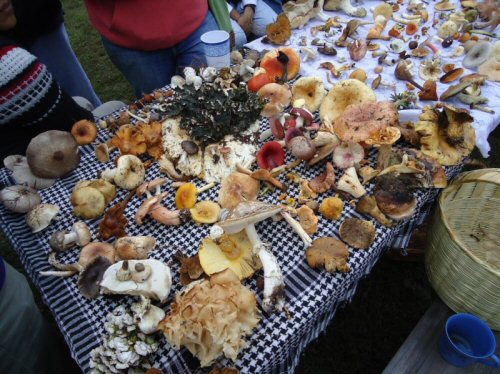 The Cuajimoloyas area yields a large variety of mushrooms More Photos

Every summer during the rainy season in the Sierra Norte of Oaxaca, southern Mexico, both tourists and Oaxacan residents alike gather for a weekend of food, hiking, discovery and related activities with an emphasis on ecotourism. Their common goal is to hunt for, celebrate and learn more about wild mushrooms (hongos silvestres) in a magical setting - the pristine, ecologically protected forests of tall conifers, brilliant wildflowers and majestic agave in and around the town of Cuajimoloyas.

The 11th annual Feria Regional de Hongos Silvestres (regional wild mushroom fair) was held August 6th & 7th, 2011, in San Antonio Cuajimoloyas. The festival, organized by the municipality with support from a Oaxacan ecotourism agency and mycological groups, as always had four interrelated foci within the context of attaining its broad objective - ensuring the highest level of enjoyment and satisfaction for all participants:
Food: Dawn to dusk indulging of every shape, size and color of edible hongo silvestre, prepared using a multitude of cooking techniques; discovering new recipes centering upon how to best incorporate a variety of distinct wild and cultivated mushrooms into Mexican cuisine with an emphasis on Oaxacan culinary tradition - hongos in traditional moles, empanadas and quesadillas; foil wrapped with other succulent fresh ingredients, herbs and spices; stir fried with potatoes and chorizo; marinated as a preserve.
Scientific Inquiry: Brief seminars by local and invited experts, mycologists, teaching cultivation; identifying and distinguishing edible, poisonous, and of course hallucinogenic mushrooms of the species imbibed by both Alice and the followers of Mexico's famed María Sabina; exploring fact, lore, and artistic representations of hongos silvestres dating to pre - Hispanic times.
Ecotourism: Hiking through the cloud forests of Oaxaca's Sierra Norte with a guide trained in identifying scores of different varieties of mushroom, the object being to gather the broadest diversity and rarest specimens; staying overnight in log cabins, each equipped with hot water, comfy beds and a firewood fueled hearth.
Financial Support for the Local Economy: Reasonably priced weekend and day passes so as to guarantee healthy attendance and thus a significant economic boon for the municipality; a Sunday marketplace providing villagers with an opportunity to sell their local handicrafts, as well as organic produce, prepared foods and freshly cooked full meals, mushrooms naturally stealing the spotlight across the board.
The weekend exalted the mushroom to a Mexican foodstuff worthy of celebrity status, while at the same time supported Oaxaca's growing Sierra Norte ecotourism industry. Pomp and ceremony combined with uncharacteristic (for Oaxaca) organization.

Participants arrived in Cuajimoloyas from Oaxaca by bus (two hours) and car (one hour) Saturday morning. The center of activity was the municipal offices and large courtyard for registration, and ticket purchase in the case of those who had not already done so in Oaxaca.

Groups of ten visitors plus a guide headed out for the mushroom hunt. Those with greater stamina elected the most arduous trek. That involved more hiking and climbing than walking, to outlying areas with a greater abundance and variety of hongos. Wild mushrooms ranging from pinhead to almost watermelon size were sought out and gingerly picked from under and alongside beds of pine needles, fallen tree branches, agave leaves and cow dung.

By late afternoon the groups of hunters, each with their wicker baskets bountifully filled with mushrooms, gathered back at a makeshift outdoor mess hall, the scene reminiscent of that in a western movie with ranchers returning to camp at the end of a cattle drive. First a well-earned comida of choice mushroom dishes as well as more typical Oaxacan fixins such as refried beans, grilled meats, steamed tamales and of course tortillas and tlayudas.

Each team then displayed the fruits of its labor on long picnic benches, some arranging their mushrooms according to species, others electing a more artistic arrangement. The toadstool judges tallied the numbers. The winning team had collected 254 different types of wild mushroom. Another team took away the prize for best hongo silvestre. While a spectacular specimen of renowned red, white flecked Amanita muscaria competed, there were no second or third places of honor. Its picker nevertheless paraded it around the compound with motherly pride.

Drivers caravanned each mushroom enthusiast in open backed diesel trucks back to the starting area where once again everyone was divided up: those who would be returning to Oaxaca, and overnighters heading for cabins. Some cabins were in Cuajimoloyas a short walk away, while others were in nearby villages such as La Nevería and Benito Juárez, or out in the woods further removed from the Sierra Norte towns.

For those staying on, dusk had arrived, so the evening was spent first getting settled, with warming fireplace ablaze, then relaxing in the cabins recounting the day, some quietly partying with snacks and wine, beer or mezcal, others turning in early.

Arriving back at fair headquarters next morning, stalls were being set up with produce and crafts, as well as eateries for a mushroom breakfast. Sunday morning was reminiscent of a typical weekend day at a rural Canadian or American farmers' market. The afternoon consisted of a series of optional seminars lead by the mycologists, snacking in between, examining the large indoor display of recently retrieved then labeled regional mushrooms, followed by more food - another full comida highlighted by mushroom dishes.

Most of those who had come from Oaxaca for only the final day's activities had arrived by noon, in time for lunch. The comida was once again self serve, everyone seated along large tables extending the length of a nondescript building, chatting with friends, as well as with strangers. After all, hiking and hunting for hongos silvestres in Oaxaca's Sierra Norte, indulging in down home Mexican food as never experienced before, and supporting regional ecotourism were more than sufficient a tie to bind.

Day Two concluded with a traditional Oaxacan Guelaguetza with all its glory, pageantry and giving. Some visitors stayed to its conclusion and continued sampling foods, buying mushrooms and chatting; others, mostly those who had already seen many a Guelaguetza, left mid - performance to return home to Oaxaca; while many supporters of Oaxaca's ecotourism industry, mainly tourists, stayed in Cuajimoloyas for a day or two longer - more hiking and hunting, mushroom indulging and soaking up Oaxaca's Sierra Norte. It's hard to bid farewell to a weekend of exceptional Oaxacan food, entertainment and hospitality, especially after experiencing its Feria Regional de Hongos Silvestres.
---
Alvin Starkman is a paid contributing writer for Mexico Today, a program for Marca País - Imagen de México. Alvin enjoys taking visitors to Oaxaca to explore more off the beaten track sights, and encourages them to enjoy a diversity of experiences in addition to "the usual." Alvin has written over 200 articles about life and cultural traditions in Oaxaca, consults to documentary film companies, and with his wife operates Casa Machaya Oaxaca Bed & Breakfast.
This page has been visited times since September 19, 2011.
---
| Top of page | Main index | Search | What's new |