Home >> Oaxaca >> Puerto Escondido >> Oasis Surf Factory
Oasis Surf Factory • Oasis Surf Academy • Oasis Language School

Oasis Surf Factory
Calle Bugambilias s/n
Colonia Santa María, Playa Zicatela
Frente a Hotel Belmares, y junto al Hotel Oasis
Puerto Escondido, 71980, Oaxaca
Oasis Language School
Oasis Surf School
Boulevard Benito Juárez local #6
Rinconada, Puerto Escondido - Oaxaca, 71980

Email: info@oasissurfpuerto.com

Email: spanish@oasislanguageschool.com

Telephone:
(954) 582-1445 (School and Surf Academy)
(954) 104-2330 (Mexico voice/fax - after 7:00pm)
044 (954) 109-1319 (Mexico cell)
044 (954) 101-6732 (Mexico cell)
(831) 532-1085 (U.S.)
Web: www.spanishandsurflessonsmexico.com
Top of Page | Oasis Surf Factory | Oasis Surf Academy | Oasis Language School
Oasis Surf Factory
There are just a few surf factories and companies that produce surfboards in Mexico. Oasis is one of them. You can find brand new custom made surfboards as well as second hand surfboards for very economic prices. You can also learn how to surf in the "Oasis Surf Academy" and take some Spanish lessons while you enjoy your vacations in a Latin country.


map of Zicatela area

Oasis Surf Factory is located in Playa Zicatela [see map], one of the top 10 surf locations in the world and home of the famous 'Mexican Pipeline'. Zicatela is considered the "Meca" of surfing in Mexico and the most consistent beach brake in the whole country. This area is where most of the International and Professional contests are held. Among these, are the 11 X GAMES of Surf and The Game, organized this past August 2005 by ESPN international.

Making surf boards

Oasis has a variety of activities going on in the surf factory. On one hand, is the production of brand new surfboards and the sell of all materials related to the surfboard production: foam, resin, fiber glass fabric, etc. "We have worked very hard on developing a line of surfboards diverse enough to fit almost any surfer : from experience to beginners, younger or older, male or female . We have been able to make each of these designs special and customize them to suit the individual. We are very confident in our latest line of surfboards and are very excited at the results we have seen so far," says Roger Ramirez, owner and shaper of Oasis Surf Factory.

In this past two years, Oasis has distributed and sold many surfboards all over the country, not only to Mexican surfers, but mostly to foreign visitors. Dedicated surfers usually bring their own surfboards from home. Most airlines accept a surfboard (properly packed in a surf bag) as one of the two pieces of checked luggage. However, once in Mexico, the domestic airline that travels to Puerto Escondido charges extra for them. This is one of the main reasons why surfers, nowadays prefer to buy a surfboard once they arrive to their surfing final destiny, specially if they have the opportunity of buying a custom made surfboard that attends their own needs for a reasonable price.

Oasis provides custom made boards and used boards for very economic and competitive prices. "We specialize in shaping custom boards built to fit the individual. You know that the process of ordering a new surfboard has traditionally been one of excitement, but specially of patience" adds Roger Ramirez "that's why we try our hardest to have the boards done faster than most". In order to do so, Oasis has divided the Surf Factory into many different areas, each of them specialize in one of the processes of making a surfboard: shaping room, sanding room, glassing room, painting room and a show room for customers to see the product finished.
Top of Page | Oasis Surf Factory | Oasis Surf Academy | Oasis Language School
Surf Academy
Learn how to surf with the right people
On the other hand, Oasis also offer to their customers the opportunity of taking surf lessons in a proper Surf Academy, located in playa Carrizalillo.
Dealing with equipment selection and procurement, picking up the basics, and managing to catch your first few waves without getting in anyone's way, can be almost impossible on your own. Most beginners have a friend who surfs that shows them the ropes. Others save themselves the embarrassment of failing and near drowning by spending their first couple of weeks in the water at a surfing school.
Oasis provides beginners with all the needed equipment to start surfing: surfboards, leashes, lycras, car transportation to the beach and a bilingual and experienced surf instructor that will be with the student during the whole class. Teachers don't take more than two students per class, in order to give all the attention and security that beginners need.
Our experienced staff of expert instructors supportively guide you through the fundamentals of surfing. Beginners start with the basics of paddling, board handling, wave selection, and board riding.
Top of Page | Oasis Surf Factory | Oasis Surf Academy | Oasis Language School
Oasis Language School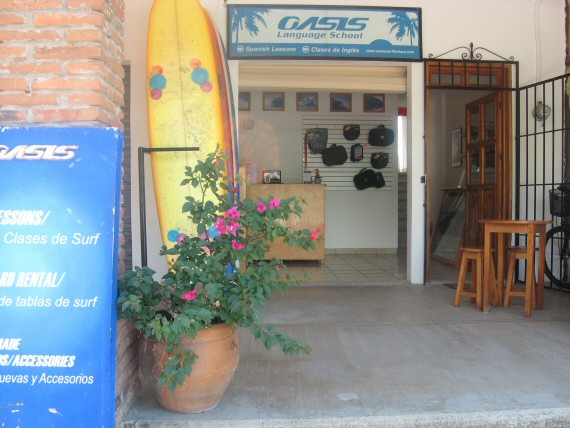 Oasis Language School, Blvd. Benito Juarez No. 6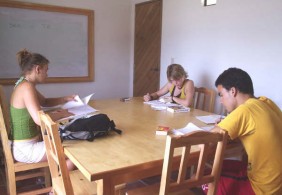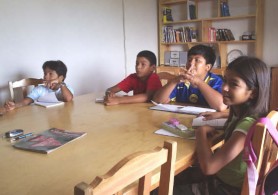 Learn Spanish and get involved with the Mexican community
Oasis Language School offers students the possibility of attending individual classes in the privacy of their own hotels or with a group class. We specialize in courses designed for individuals or groups, delivered by experienced professors with emphasis on personal attention and achievement of agreed goal.
Oasis Language School is located in one of the most stunning locations of Mexico, allowing students to get involved with the mexican culture and language as well as enjoying the tropical paradise of theses beaches. A staff of professional teachers combined with effective teaching methods and a friendly approach to the language, helps maximize the student's learning capabilities and makes learning a truly enjoyable experience.
Mexican Home stay
One of the best ways to learn Spanish is to combine formal studies while living with a Mexican family. This provides multiple opportunities to learn new words and expressions as well as giving an insight into daily life in Mexico.
A number of families have been carefully selected to provide security and a comfortable atmosphere to Oasis students.
Other type of accommodation: Hotels and Furnished Apartments
Depending on the personal preferences and how much the student wants to spend in accommodation , Oasis provides a great variety of hotels, hostels or apartments for rent in Puerto Escondido.
Early reservations are recommended for all type of accommodation as it is subject to availability and length of stay.
This page has been visited times since September 28, 2006.
---
| Top of page |