Home >> Oaxaca >> Oaxaca, Oaxaca >> Ice Cream of Oaxaca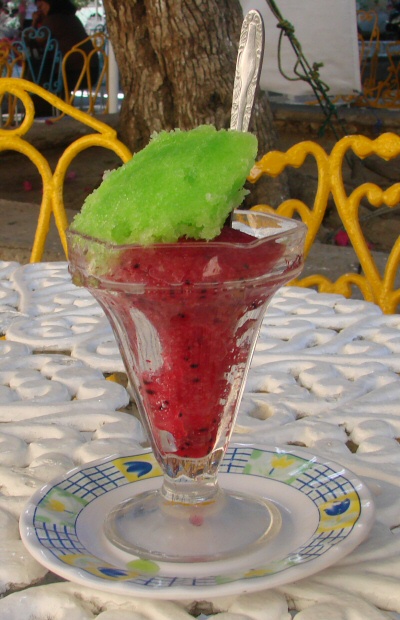 A colorful combination of Limón and Tuna
Ice cream or nieves is very popular here and there are many flavors to choose from. Oaxaca's tropical location and mountainous terrain yield a variety of growing climates leading to a diverse supply of locally-grown produce. So the flavors are natural and numerous but artificial coloring is used. Many of the ice cream flavors that are common here are unheard of elsewhere. The Oaxacan ice cream is not "creamy" but has a coarser texture containing ice crystals. This can be overlooked because it tastes so good.
You can find locally made ice cream in the market and in one of the many ice cream stands at Jardín Sócrates in front of the Basilica de la Soledad. It isn't exactly cheap with the 2011 cost of $25 pesos (about US$2) per serving.
Vendors list the flavors under categories of milk-based and water-based. Some flavors are found in both lists because they can be made either way. Most of the flavors are fairly bold except that my wife thought the limón was a bit weak (I make it much stronger). Standard Oaxacan flavors are:
Milk-based flavors
Amaranto - Amaranth.
Banana Split -
Beso de Ángel - Contains nuts.
Beso de Oaxqueño - Contains nuts.
Beso Zapoteco -
Cacahuate - Peanut.
Cajeta - Caramel.
Capuchino -
Chicle -
Coco - Coconut. The one I tried was good but disappointing because it used processed shredded coconut.
Chocolate - Made with the Mexican table chocolate, which includes cinnamon.
Datil - Datil is a very hot pepper.
Elote - Corn.
Fresa - Strawberry.
Leche Quemada - This is one flavor I have yet to develop a taste for. It is made of burnt milk but tastes worse than that, more like burnt cigarette butts.
Mamey - Made from the pink-fleshed fruit of the mamey sapote tree.
Mezcal -
Nanche - Made from nance, the small round yellow fruit you see in the markets on at street vendors.
Nuéz - Nut.
Piña Colada -
Pistache - Pistachio.
Platano - Plantain banana.
Rosa - The flavor of roses, not bad.
Queso - Cheese.
Sorbete - Delicious.
Tequila - Very good and only mildly alcoholic.
Uva con crema - Cream of grape.
Vainilla - Vanilla.
Zarzamora - Blackberry.
Water-based flavors
Chamoy con Chile or Beso de Judas - Contains chunks of chamoy fruit and powdered chili. We liked it but the texture of the chamoy is quite chewy.
Ciruela - Cherry, a seasonal flavor. Was not available in February.
Durazno - Peach.
Guanábana - Made from the soursop, a green prickly-looking fruit.
Jicama con Chili
Kiwi -
Limón - Lime.
Mandarina - A type of orange.
Mango -
Maracuya - Passion fruit.
Melón - Cantaloupe.
Membrillo - Quince fruit.
Nanche - Made from nance, the small round yellow fruit you see in the markets on at street vendors.
Tamarindo - Made from the tamarind bean, a popular flavor in Mexico.
Tejate -
Tuna - No, it's not fish ice cream; it is the fruit of the cactus and it is quite good.
Zapote - There are several types and colors of zapote fruit but the ice cream I had was of the black zapote and was very tasty.
Chico Zapote - I haven't tried this one yet.
This page has been visited times since February 19, 2011.
| Top of page | Main index | Search | What's new |
---
The Pacific Coast of Mexico

www.tomzap.com

Tom Penick: tom@tomzap.com