Home >> Oaxaca >> Zipolite >> Fire
Playa Zipolite Fire,
February 21, 2001
There was a huge fire at the Zipolite beach on the afternoon of Wednesday, February 21, 2001. It started right before two o'clock in the afternoon in Tao and then extended to La Choza on one side and to Las Brisas on the other side. [Here is a link to a site with some photos.]
Tao, La Choza, Eclipse, Las Brisas, la Jaula, Le Castelet, Montebello, La tienda del Paisano, and other houses nearby are totally burned to the ground. Tres de Diciembre lost one house. Onofre and Maria lost their house. Only minor damage to Piña Palmera, one old roof caught fire but everybody together managed to extinguish it before mayor harm was done.
El Nuevo Sol is fine although they took down the palm roof to stop the fire to spread. Lots of gas tanks exploded and the pillar of black billowing smoke could be seen all the way to Pochutla. Three hours after the fire started (by then it was largely under control although many places were smoldering) a fire engine came from Huatulco!
Police and soldiers came to fight the fire and everybody on the beach made human chains from the ocean to forward buckets of water. Together they manage to stop the spread of the fire to other palapas and they saved San Cristobal that started to burn. El Hongo, Zipolnet, El Chupon y la Puesta are OK too. And no harm is done to Cosmico, Alquimista and Shambala either. Many tourist lost all their things and all their documents. Nobody lost their life. The other restaurants that got burned will probably need more time to start business again. El Castelet (Bernardo and Reina) and Tao (Lorenzo and Nadia) burned down to the ground and Las Brisas (Daniel) and El Paraiso (Victor) will probably need to be rebuild completely.
They have started an account in order to help the families who lost their business and their homes. The account is managed by a committee of five (Bernardo Bert, Dario Martinez, Victor Bustos, Ramon Diaz and Enrique Martinez (Kiko).
It is in the name of
FONDO DAMNIFICADOS ZIPOLITE
Banco Banamex sucursal 528 in
Pochutla, Oaxaca, Mexico
Account #578-7828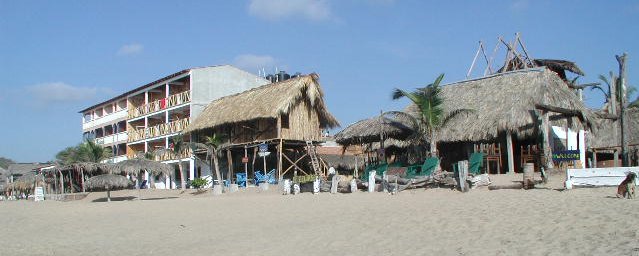 December 2001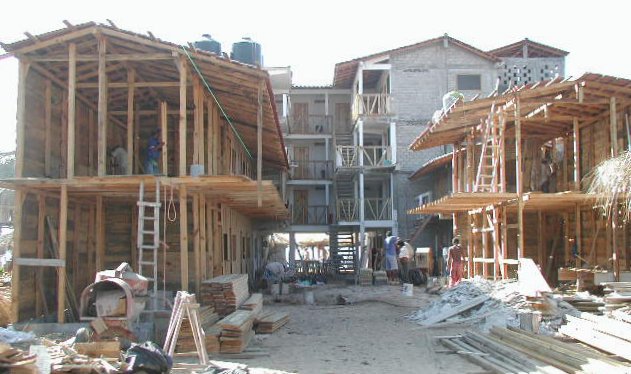 Reconstruction on rear of Brisa Marina in December 2001. Photos from Quenomica@aol.com.
| Top of page | Main index | Search | What's new |
---
The Pacific Coast of Mexico

www.tomzap.com

Tom Penick:&nbsp tom@tomzap.com