Home >> Oaxaca >> Oaxaca, Oaxaca >> An Expatriate Life >> Letters >> Norange, Anyone?



Food is a big part of life in Oaxaca, and in our home, it may well be the centerpiece of our existence. By any standard, the amount of time we spend getting the raw materials, preparing them, and consuming the results, must certainly make it our major focus -- and that's excluding the siesta I need to sleep it off.

Take today, for example. Sitting here at the computer, digesting a breakfast of fresh papaya, mango, banana and cantaloupe topped by home-baked granola and milk (Diana prefers yogurt), I am assailed by the smell of black beans cooking with garlic, cumin, onion, epazote (a green herb), chiles, and whatever herbs have grown too old for the salad. Soon I will take a break, and accompany Diana to the Friday Market, to act as bearer as she hunts and gathers ingredients to replenish the larder.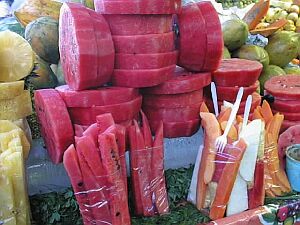 This is part of the bounty available on just one of hundreds of fruit and vegetable stands throughout Oaxaca city. While we do not recommend eating already prepared fruit from street vendors, it sure does look good -- and if you take the fruit home and cut it up yourself, then "vale la pena" (there is value in the effort). [Photo by Diana Ricci]

There are supermarkets in Oaxaca. They look a lot like K-Mart, with a broad variety of merchandise available, including a large food section. We do go to them occasionally, for those rare items that are simply not available elsewhere, but we never waste our time picking over the produce. Judging from the age and condition of what is in the bins, neither does anyone else. Fruits and vegetables are best in the once-a-week neighborhood market, a roving carnival of sights, sounds and smells that moves from one section of Oaxaca to another. Friday is our day. A small (1/2 block square) park near our house, known during the rest of the week as a favorite spot for necking, is transformed into a magic wonderland of food (raw and cooked), clothing, furniture and junk.

There is a cheese lady, selling home made string, farmers, and brick cheese, yogurt and cream (sweet, and sour); the fish monger with his shark, red snapper, whitefish, squid and shrimp, all driven in just this morning from both coasts; the egg man, the pork butchers and the chicken ladies; the score of booths selling fruits and vegetables; and my own personal favorite, the orange man.

The orange man is about a thousand years old. Wrinkled, toothless, bald. He has a young man assisting him. He sits on the ground, amid his piles of oranges, and sells pure distilled sunshine, by the kilo or the bag. His wares are untainted by chemical coloring, and so they reflect the ebb and flow of the seasons. In the fall, when the rainy season is ending, they are green on the outside, and yellow on the inside, and have a tart aftertaste. In the winter, and increasingly into the late spring, they are orange, inside and out, and sweet beyond description. At a cost of 75 cents per bag of 25, they are perhaps the best buy in the market (a bag of 25 makes a little over a gallon of juice).

We try to do business with the same folks from week to week. They know what we want, and we know what they charge. When Diana asks for a papaya, or other fruit, the response usually is "for today?" If she says "no, for tomorrow", she gets one that needs another day to completely ripen.

We occasionally pick up some organicly grown produce, bread, and herb cheeses from local gringos supplementing their incomes, but mostly we buy "locally": it's cheaper and easier. The big exception is smoked meat and sausage, which we get from a German couple: nobody else sells hard Italian style salami (Diana's weakness) or smoked pork tenderloin (mine).

After we get the food home, we have to prepare it for storage. Everything gets washed in water with bleach in it, to remove any "bad animals", and is left to dry in the dish drainer or on the counter. Even the oranges are washed off before being sliced in two, to prevent the knife from carrying a speck of contamination into the meat of the orange.

Now comes the moment I have been waiting for. Reaching under the kitchen counter, I bring up the electric juicer (some argue that an old-fashioned long-handled squeezer is best, but I like the way mine reverses itself under my hand as I push down, to get every last glorious drop). Three reservoirs of juice make one large pitcher for the refrigerator and two large glasses for the juice maker (me) to consume while standing at the kitchen counter.

My grandmother used to say "Hava Norange" in her mittle-European accent, and invariably I did, and now I am a famous author living in Paradise. So c'mon down, the bottled water's fine, the food is ripe and nutritious, and the oranges? As Garrison Keillor used to say on the old "Prairie Home Companion" radio show: Heavens! They're tasty!
(July, 1995)
---
| Top of page |