Guadua ranks arguably as the best restaurant and bar in Puerto Escondido in terms of both ambiance, and quality and creativity of fare. In fact for this reviewer it's a full notch above the rest.


The restaurant's designer has done an impeccable job of creating an atmosphere fitting a bistro on the beach, yet with class and subtlety, and a conspicuous lack of that all-too-prevalent and overpowering nautical paraphernalia. No walking over an arched mini-bridge onto these sturdy hardwood planked floor boards. With its full open concept, there's nary a wall to hang a dolphin, a net, or an oversized photo of the owner's big catch. While structurally a palapa, the configuration is more than simply functional cross beams and uprights supporting palm leaf; posts are erected at aesthetically pleasing and unusual angles, worthy of note in Architectural Digest. Lighting, while somewhat dim for late night dining, is provided by bulbs dangling inside smartly strung over-sized patterned burlap balls.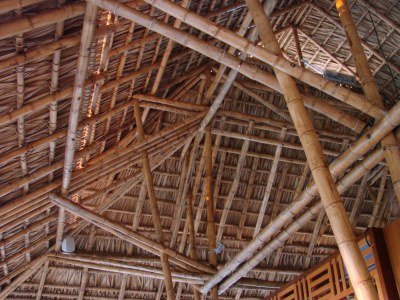 Guadua's bamboo palapa

Waiters are quick to welcome, take your drink order and arrive back with a basket of warm, multi-grain hand-sliced loaf. The recorded music consists of tasteful Latin-style new age, but only until the fifty-something Cuban-born troubadour sets up with his companion off to a corner to serenade with familiar soft rock and the odd Spanish tune. Otherwise there's the sound of the surf, with the sand virtually at your feet and ocean merely yards away.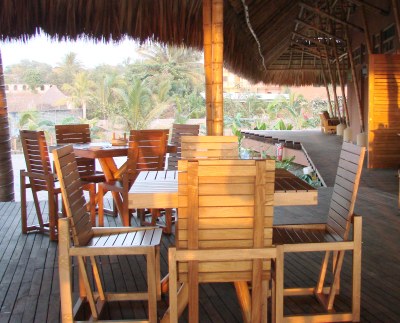 Dining area

Our first appetizer was tuna timbal with couscous, consisting of chilled and properly fluffed couscous lightly tossed with cucumber, purple onion, avocado and diced fresh tuna marinated in garlic ginger soya sauce. Each ingredient retained its distinctive flavor. The soya was used sufficiently sparingly so as to not overpower. Equally impressive for its ability to showcase each component was the eggplant bruschetta … a purée with roasted tomato, melted Roquefort and homemade mayonnaise, over the requisite thick rounds of toast.