Home >> Oaxaca >> Huatulco >> Beaches of Huatulco >> Playa Cacaluta
Playa Cacaluta

Huatulco, Oaxaca

Located southwest of Santa Cruz
GPS: 15°43.3'N 96°09.4'W




Isla Cacaluta with Playa Cacaluta in the background photo by Tom Penick See more Aerial Photos

The word cacaluta comes of the Indian word cacalote, that means black eagle. In this area is common to find the Common Black Hawk, black with a white tail band.

Playa Cacaluta was the filming location for the beach scenes from the award-winning adult movie Y Tu Mamá También, a 2001 Mexican film written by Carlos Cuarón and directed by Alfonso Cuarón.
On the left side of the beach is a small coastal lagoon with a large and varied bird population. White tail deer also visit the lagoon.
The island in front of the beach, Isla Cacaluta, has a very nice and shallow coral reef on the side that faces the beach. On the other side of the island, water reaches a depth up to 120 ft, and is one of the more beautiful scuba diving sites. There is a canyon that begins at a depth of 60 ft and is 60 ft long. When you get out of the canyon, following the bottom, you're at only 30 ft. The walls are incrusted with sea fans, sponges and yellow tube corals.
Carlos Ramos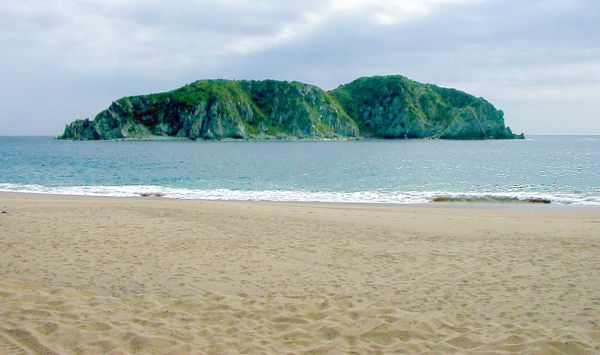 Playa Cacaluta with Isla Cacaluta in the background
photo from Ray Talucci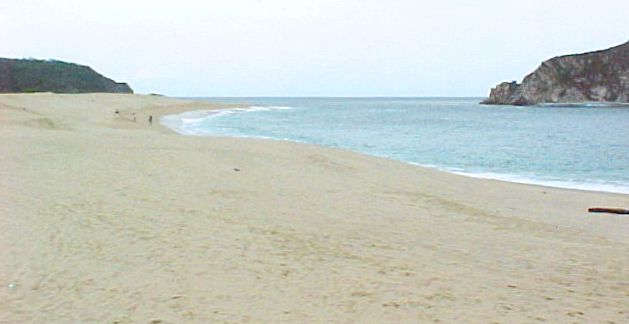 Playa Cacaluta
photo from Claudia Oliden
| Top of page | Main index | What's new |
---
The Pacific Coast of Mexico

www.tomzap.com

Tom Penick:&nbsp tom@tomzap.com