Home >> Oaxaca >> Puerto Escondido >> IFOPE
International Friends of Puerto Escondido

a group of helping hands
Mission Statement | Emergency Response | Community Assistance | Library | Meeting Dates
The International Friends of Puerto Escondido was formed by a group of foreigners living in Puerto who felt the need to meet together on a regular basis and exchange information, ideas and suggestions with respect to dealing with situations occurring while living in a foreign community.
As of May 2009 it has become apparent that IFOPE no longer exists. The group has morphed into the Amigos Internacionales de Puerto Escondido. This group runs the library on the Rinconada.
Mission Statement
International Friends of Puerto Escondido is a non-profit, non-religious, non-political association of foreigners and other interested people living in Puerto Escondido, Oaxaca. The association, formed in May of 1998, serves as a support and resource group, and functions to facilitate communication and cooperation within the foreign community and between the foreign community and local governments. IFOPE also aids visitors who find themselves in need of assistance in both emergency and non-emergency situations. The group also offers service and support to local communities as needs are identified.
Emergency Response
An identified need was to put into place some type of emergency response program in case one of our members or any foreigner visiting Puerto found themselves in a serious medical or other emergency necessitating assistance and not knowing to whom to turn for help. We developed an Emergency Response Team comprised of volunteers from various countries who speak Spanish (as well as other languages) to respond in case of any emergency involving any foreigner who comes to Puerto.

Our Emergency Response Team interfaces with the city hall, local police, the Red Cross, hotels and medical clinics and is notified of any foreigner needing and asking for assistance. The members of the Emergency Response Team then offer whatever assistance is appropriate in terms of translating and dispersing information to make what could be a scary or uncomfortable situation as comfortable as it could be given the circumstances. Also, as part of the Emergency Response Program, we ask IFOPE members to voluntarily complete confidential medical forms containing basic information such as blood types, allergies, medications currently taken, emergency phone contacts and other general information that a doctor should be aware of in case of any emergency where the person is unable to respond. We are not part of an Embassy nor do we have any legal power. We do not charge for our services or loan money; we're just a group of helping hands.
Community Assistance
Another important aspect of our group is strong community involvement. Some of the things we have accomplished include: raising funds for our local orphanage; purchasing roofing materials to repair houses damaged during the earthquake of October, 1999; purchasing an oxygen tank for the Red Cross ambulance; helping to distribute eye glasses when eye doctors from various foreign organizations need translating help; donating mattresses and bedding to a school in the mountains which serves many small communities; and donating therapy stairs and a pump for a therapy pool to the local special needs school.

The city government quite often invites us to participate in local events such as the yearly Carnival parade and fiesta, dances and fiestas in surrounding communities, and as hosts for the annual Sand Sculpting contest during the Fiestas de Noviembre.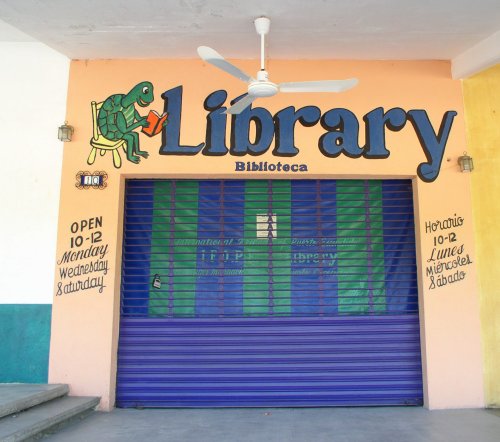 IFOPE Library on the Rinconada
IFOPE Library
The IFOPE Library is located at 10 Benito Juarez, Fraccionamiento Rinconada. 15°51.706'N 97°4.656'W. Hours vary according to season. We are a lending library open to public membership. We have over 4,000 books in English, Spanish, French, German and Italian as well as 200 videos and DVDs. Surplus copies of books are sold as well as IFOPE calendars and Directories of Businesses and Services for Puerto Escondido. The money goes into the IFOPE Library Fund so we may expand and serve the community. All donations of books, videos, or DVDs are appreciated.
Meeting Dates
IFOPE meets the second Saturday of every month at 4:00 p.m. (November - March) or 5:00 p.m. (April - October) at the Hotel Fiesta Mexicana (in Bacocho).

You will find quite a lively and varied group of people attending our meetings that generally last for an hour, mas o menos, and afterwards is social time if people are so inclined.

October 2005




This page has been visited times since January 28, 2003.

---

| Top of page |