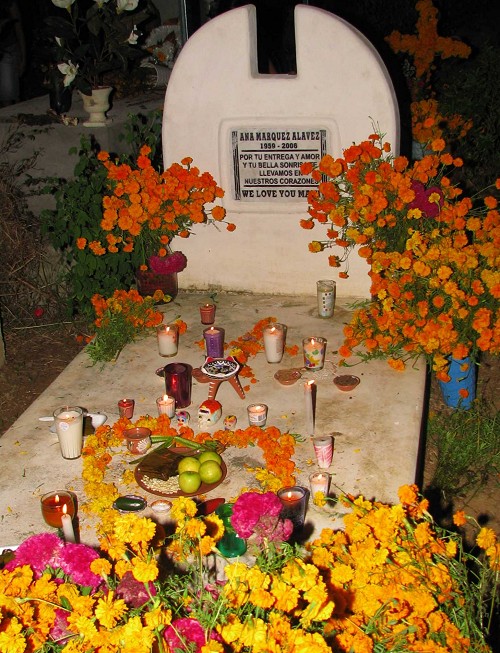 A decorated grave with a food offering
The Day of the Dead or Días de los Muertos is an annual event on November 2 when the graves of loved ones are tidied up and decorated with flowers, candles, and offerings of the departed's favorite foods. When the Spanish conquistadors arrived and imposed their religion on the native people, what resulted were a number of compromises between long-held traditional observances and the new Catholic celebrations. The Day of the Dead, which is observed on All Souls Day is an example of such a compromise.

On November 2, 2007, Gina Espinosa, Puerto Escondido's "Information Goddess", met some 30 tourists and residents at Calle 8 Norte and Av. Oaxaca at 6:00 pm for a visit to the local cemetery to view the graves and see how this holiday is observed. The group walked to Panteón Municipal and brought along marigolds cempatzuchil, fuscia santa maría, and candles to contribute to the decorations. Among the group were people from Canada, Australia, Denmark, the UK, and friends from nearby Laguna Manialtepec. They spent an hour and a half at the cemetery and at el campo santo where they enjoyed some of the traditional foods.