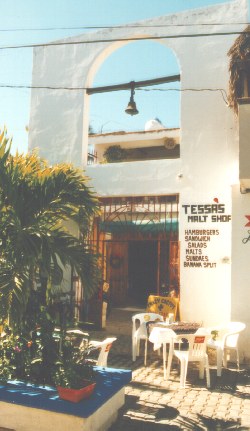 &nbsp
No, it's not Taco Bell.

Tessa's Malt Shop Has given up its lease. Not sure about what's next. Named for the owner's dog, Tessa's featured tasty malts, sundae's, burgers, and sandwiches. Eric claims to make the best hamburger in Mexico and I can attest that it is quite good.

Downstairs was the Crazy Cactus, a gift shop with a variety of wares. They have given up their lease in this location and will relocate. They rent condos, apartments, cars, boogie boards, surfboards, snorkeling equipment, and kayaks. You can contact Tracye & Peggy at crazycactusmx@yahoo.com. They are there year-round and would be happy to address your questions. Telephone (335) 56099.

Tessa's Malt Shop and the Crazy Cactus close for the low season, after Easter to September, but you can reach Tracye and Peggy at home at (335) 56091 during the off season.