Home >> Oaxaca >> Oaxaca, Oaxaca >> Hierve el Agua, Oaxaca
Hierve el Agua, Oaxaca: Mexico's Premier Bubbling Springs and Petrified Waterfalls

by Alvin Starkman of Casa Machaya
Hierve el Agua is one of the least visited attractions along Oaxaca's central valley touring routes. Yet for naturalists, photographers, hikers and those with an interest in ecotourism, it holds much more allure than most of the traditional sights.
Translated "the water boils," Hierve el Agua is actually a misnomer. At two locations about 40 meters apart, water does indeed "boil" up from the ground; not hot, but rather forced to the surface by the earth's interior pressure, arriving at roughly atmospheric temperature.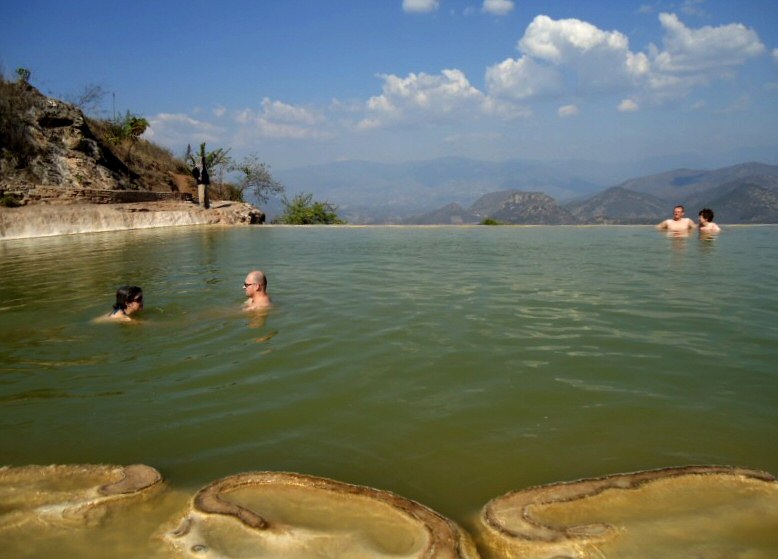 Hierve el Agua
It rises to the surface, then channels into two man-made pools of fresh, mineral-rich water, suitable for swimming since the pools gradually reach depths upwards of seven feet. Taste the water before it reaches the lower pool, as it flows along a narrow canal from the puncture in the earth; it's crystal clear and pure, of course aside from natural mineral compounds.
The Effect of Minerals at Hierve el Agua
The bubbling water is rich in mainly calcium carbonate and magnesium. The minerals have built up over thousands of years, giving the effect of petrified waterfalls. Descending towards the actual site to swim or view the falls, one walks over mineral deposits, partially smoothed over in 2008, with the use of cement and lime to make it easier to ambulate. Thousands of years ago the surface was lower; it gradually rose to its present level, as a result of the mineral deposits.
Standing on the main precipice near the lower pool, one sees the postcard perfect petrified waterfalls, a photograph most often reproduced for promoting tourism. However, there is a different falls, accessed by a short hike.
Hiking and Walking Paths at Hierve el Agua
There are numerous trails and pathways at Oaxaca's Hierve el Agua, suitable for taking short hikes. Each route is less than an hour in duration, including stopping to marvel and take photographs.
Depending on the time of year, some paths may be somewhat overgrown, but certainly not to the extent that there is any undue danger, or risk of getting lost. The most well-traveled leads up and around to the top of the principal falls. One often sees people who have already made it there, just sitting and gazing back towards the pools, having a vantage-point for viewing the second impressive petrified falls.
Another pathway, requiring more navigational agility, leads down into the valley along a series of ridges and paths. One arrives at the base of the principal petrified falls, from where one can do a bit of climbing. But pause and look back every once in a while, and see the effect caused by the trickling water over the course of millennia.
Tourist Facilities at Hierve el Agua, Oaxaca
In 2008, government completed construction of a large, impressive, traditional swimming pool, as well as dining facilities just above the actual Hierve el Agua site. There are about a dozen small, modern restaurants alongside a shady, palm leaf palapa; there's an equal number of row-house hotel suites close by, constructed years earlier. It is not known when any of it will be operational.
In the interim, there are several simple eateries lining the access route to Hierve el Agua, beside the parking area. Souvenirs, towels and bathing suits are sold in the same area. There are basic washroom facilities nearby, and more down at Hierve el Agua itself, adjoining rudimentary change rooms.
A larger restaurant, Alice's, is located on the left side of the road, before reaching the gate where the entrance fee is paid. Arrangements can be made there for lodging at one of the Tourist Yuú overnight facilities. There are four cabins which provide rustic yet adequate accommodations for an overnight stay. Inquire at Alice's for details. One can book by calling a cellular phone, either 045951106356 or 044951106356. The village where Hierve el Agua is located, San Isidro Roaguía, has a few small stores and a restaurant.
Accessing Hierve el Agua, Oaxaca
As of late 2009, the new highway which will ultimately cut driving time from Oaxaca to Huatulco, opened from just beyond Mitla, to San Lorenzo Albarradas, about four kilometers from Hierve el Agua. But the more scenic route is along Highway 190, passing by a few quaint roadside mezcal factories, as well as El Tigre, a combined comedor and mezcal palenque about ½ kilometer before the San Lorenzo turnoff, from where Hierve el Agua has traditionally been accessed.
Since about 2004, there has been conflict between the residents of San Lorenzo and San Isidro, as a result of which at times a toll is exacted in San Lorenzo so as to enable tourists to continue on to Hierve el Agua. It can be avoided by taking a less traveled, more circuitous dirt road mountain route to Hierve el Agua, through Xaagá. As of early 2011, access to Hierve el Agua has been restricted to the Xaagá route, although during rainy season as well as during times of higher than usual tourism, the drive can be extremely slow, and indeed somewhat precarious.
At Mitla there is a taxi service to Hierve el Agua, but be prepared for sitting on simple wooden bench seats in the enclosed back of a small pick-up truck. Otherwise, drivers and tour guides in the city of Oaxaca are available to take visitors to Hierve el Agua as part of a day touring which is popularly known as Oaxaca's Mitla ot Tlacolula route.
---
Alvin Starkman is a resident of Oaxaca. He and wife Arlene run Casa Machaya Oaxaca Bed & Breakfast, a quaint bed and breakfast just outside of downtown Oaxaca. Alvin is the Oaxaca destination expert for a major international travel website, writes about cultural traditions in Oaxaca, consults to documentary production companies filming in Oaxaca, and assists in arranging small group culinary tours of Oaxaca (http://www.oaxacaculinarytours.com).

More about Hierve el Agua.
This page has been visited times since January 13, 2011.
| Top of page | Main index | Search | What's new |
---
The Pacific Coast of Mexico

www.tomzap.com

Tom Penick:&nbsp tom@tomzap.com