Home >> Oaxaca >> Oaxaca, Oaxaca >> Am I paying my staff too much?
An Overview of Barro Negro (black pottery) of San Bartolo Coyotepec, Oaxaca: Development of a Decorative Art Form

by Alvin Starkman of Casa Machaya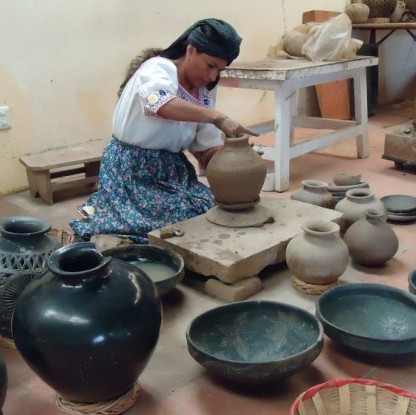 Rocio continues the tradition, shaping the barro negro

The plastics revolution of the 1960s had a profound impact on the southern Mexico state of Oaxaca. Throughout the decade, a dramatic change occurred in the means of production employed by a segment of the indigenous Zapotec population: an industry based upon rudimentary production of grey, functional pottery transformed into the folk art now known as barro negro, or Oaxacan black pottery. As a consequence, tourism to Oaxaca blossomed.

Until the 1960s, all but one family in the village of San Bartolo Coyotepec, a few kilometers from the state capital of Oaxaca de Juárez, were producing utilitarian clay pots for sale and trade throughout the region and further beyond … just as their ancestors had been doing for a thousand years or more. Indeed, the archaeological record as unearthed during the excavation of Monte Albán lays testament.

The History of Barro Negro (black pottery) in Oaxaca

The most common pottery form in the area, known as the cántaro, had been used for carrying and storing water, mezcal, milk and other liquids, for generations. Then in the early 1950s, a humble, personable woman named Doña Rosa Real, together with her husband Juventino Nieto, by chance developed an innovation to its appearance and functionality; if the pot, before firing, was rubbed with a piece of clear quartz, and then baked for only eight or nine hours rather than the traditional 13 or 14 hours, the result would be a shiny, black cántaro, purely decorative and unable to retain liquids without discoloration and filtration.

Between the 1950s and the early 1960s, everyone else in the village continued to produce their grey functional pottery, while Doña Rosa and family toiled away with what became known as barro negro (black pottery). She developed a following of foreigners who collected Latin American folk art, including the likes of Nelson Rockefeller.

The Impact of Plastic on Pottery Production in San Bartolo Coyotepec

At the same time as Dustin Hoffman's character in The Graduate was being extolled the importance of "plastics," the people of San Bartolo Coyotepec were beginning to feel the adverse economic impact of those same plastic bowls and bottles. These new containers were colorful, break resistant, and cheap. The market fell out of the traditional cántaro industry. Doña Rosa's family thrived, because at the same time, tourism was increasing due to:
more two income families
credit cards being mailed out to even Bar Mitzvah aged children making it easier to fly now and pay later
hotels, travel agencies and Mexicana Airlines having created a new concept in travel to Mexico, the vacation package
improvements to the new Pan American highway system enabling travelers to more easily reach Oaxaca, and
the hippie movement taking notice of southern Mexico as a result of Oaxaca's new-found notoriety as the hallucinogenic mushroom capital of the world.
With the foregoing changes in the Western World, more travelers began to travel to Oaxaca and visit San Bartolo Coyotepec. The market for barro negro thereby increased substantially. Virtually every potter in the village began burnishing his pieces with quartz, and removing them from the kiln "prematurely," out of economic necessity and a burgeoning tourist market.
Increased tourism meant that even with other villagers copying Doña Rosa's technique, the economic fortunes of her family were not significantly adversely impacted. On the contrary, some 30+ years after Doña Rosa's death, her family still retains a healthy market share of tourist dollars spent on barro negro.
Black Pottery, San Bartolo Coyotepec, and the Family of Doña Rosa in Modern Times
Now, nary a piece of grey, functional pottery is produced in San Bartolo Coyotepec, although there remains a very small niche market. Many craftspeople in the village do barro negro demonstrations. Some artisans such as Carlomagno Pedro Martínez and his family have elevated the art form to new heights.
Until his death in May, 2010, on a daily basis Don Valente, the son of Doña Rosa and Don Juventino, would recount the fascinating story of his parents and their innovation, while working his magic not with an electric wheel, or even a foot pedal, but rather with only two clay plates, his well-kneaded buttery clay, the most rudimentary of tools - pieces river reed and gourd, a swatch of bull hide - and the most deft of hands.
Today, three of Doña Rosa's grandchildren, Jorge, Javier and Fernando, and their sister-in-law Rocio, keep the family tradition alive, telling the tale of their grandmother.
Indeed it's no wonder that the walls of the workshop and gallery are adorned with photos of Doña Rosa with Rockefeller, and Don Valente alongside the likes of Jimmy Carter, an array of Mexican entertainment industry stars, prominent politicians including governors and presidents, and yes, even The Pope.
---
Alvin Starkman is a resident of Oaxaca, and together with wife Arlene operates Casa Machaya Oaxaca Bed & Breakfast, a unique b & b experience just outside downtown Oaxaca. Alvin has written over 200 articles about life and culture in Oaxaca, consults for documentary production companies filming in Oaxaca, takes couples and families to visit the sights in Oaxaca's central valleys, and assists groups interested in learning about the food and drink of Oaxaca through organizing Oaxaca culinary tours.
This page has been visited times since February 5, 2011.
| Top of page | Main index | Search | What's new |
---
The Pacific Coast of Mexico

www.tomzap.com

Tom Penick:&nbsp tom@tomzap.com