Home >> Oaxaca >> Oaxaca, Oaxaca >> Acquainted with the Night: Documentary Film Review
Acquainted with the Night: Documentary Film Review

Article by Alvin Starkman of Casa Machaya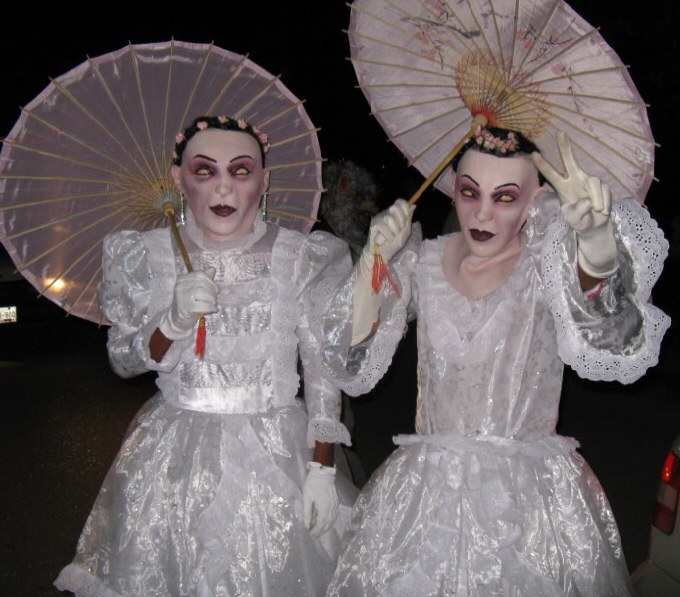 Book Cover

Feature-length documentary "Acquainted with the Night" (Markham Street Films, 2010), is a brilliantly executed examination of how humanity explores, embraces and attempts to protect the night. Shot in seven countries and eight languages, director Michael McNamara and co-producer Jen Recknagel analyze the universality of elements embodied in dusk to dawn traditions - curiosity and the quest to learn, ritual celebration, fear and adaptation, and from a Western research perspective the concern for the night's adverse impact on the individual, and society.

The movie is based on Christopher Dewdney's book, Acquainted with the Night: Excursions through the World after Dark. While Dewdney breaks up the night into hourly vignettes based on science, myth and poetry, McNamara proceeds differently, showcasing key segments of time: daytime preparations, dusk, night-time activities, dawn and its aftermath.

In the film's Prelude, individuals in a diversity of cultures and stations in life are shown preparing for darkness, foreshadowing what the night embodies for them:
In the town of Atzompa, in the southern Mexican state of Oaxaca, a family walks along a dirt road with a wheelbarrow and arms full of flowers, destined for the cemetery, the beginning of its Día de los Muertos (Day of the Dead) rituals;
Members of Astronomers Without Borders line up telescopes in Bhaktapur, Nepal, for viewing Jupiter and its moons;
A team of researchers arrive at Arches National Park in Utah, to measure light pollution;
On the Greek Island of Chios, villagers from two rival towns ready rockets and launching pads in preparation for a century - old, middle-of-the-night pyrotechnics competition;
A group sets up high - power lamps in New York City near Ground Zero, for a tribute in lights;
Artists at Parc des Buttes Chaumant in Paris, France, install their art, and lighting, for Nuit Blanche, a unique exhibition.
Introductions continue through Dusk, in Austin, Texas. Crowds gather before dark, eager to watch 1.5 million bats fly out from beneath an expansion bridge in a night-time feeding frenzy. This year the bats emerge unexpectedly early, but the film crew, on the ready, doesn't miss a beat and catches the event as it happens.

Moving into The Night, we're whisked worlds away, to a marketplace in Marrakech, Morocco. Children and adults alike are enthralled by the tales of a traditional storyteller, one of only two or three of his kind remaining. But storytelling is universal, as McNamara illustrates, taking the viewer from this Moroccan custom to Anglo- and French-Canadian homes in Canada where parents read the same bed-time story to their children, "Love You Forever," in English and in French.

McNamara uses his characters, rather than a narrator, to thread his theses. Researcher Chad Moore, measuring light pollution with sophisticated instruments, decries the loss of the ability of Americans to witness true darkness. It "ties all people together across the planet," states Moore. "We have to decide if it's worth saving," he asks rhetorically. Then in Nepal, as if to answer the question, we're placed amongst astronomers encouraging onlookers to take a peak at the largest planet in the solar system. Curiosity, intrigue, marvel and the quest to learn about the night, each transcends culture and age.

Returning to North America, and The Night Shift, a long-haul trucker drives across Canada with her son, after dark, exposing us to the night's working world - its allure, its danger, and its necessity. At the Sleep and Alertness Clinic in Toronto we learn of the afflictions which beset the night shift, and are told of modern-day disasters which have occurred during the middle-of-the-night as a result of human error - Chernobyl and Exxon Valdez are cited examples. If humanity must work throughout the night, as is suggested, how do we better adapt?

The dark side of earth's most densely populated club district is revealed, under the watch of Toronto Police Department's 52 Division. Another aspect of night shift work: patrolling nightly, and then rounding up mainly youthful revelers as they emerge from partying shortly after 2 a.m., high on drugs or a little too much to drink, in either case resulting in unruly conduct or violence. Detention and in some cases arrest follows; then finally the morning clean-up, Night's Last Stand.

McNamara also illustrates how differently death is approached depending on societal mores. In the candle - lit Mexican cemetery his cinematographers capture the poignancy of an elderly couple lamenting the loss of their son, decades after his passing. He then switches to the somber spectacle of light near Ground Zero. On a subsequent night in the Mexican village, death is remembered no longer through solemnity, but now with comparsas - parades marked by reveling in costume, dance and song. McNamara then takes us to the pageantry of a Winter Solstice celebration at Toronto's Kensington Market. The night is a catalyst for celebrating in similar, almost identical fashion, under dramatically distinct circumstances.

Particularly striking and thought provoking contrasts occur within the context of McNamara taking us to a makeshift outdoor hockey rink illuminated by the full moon, then to beyond Yellowknife, where The Dene, one of Canada's First Nation peoples, emerge from their teepees rejoicing the awe inspiring Aurora Borealis, and yes, telling stories. Cut to Paris, where artificial light gives art a new appreciation, then to New York, where light pays homage to America's fallen. It's hard to resolve the conflict between utilizing and appreciating the night and all its wonder and beauty - a motive for its preservation - and perhaps just as valid, transforming and celebrating the night, which leads to its adulteration.

As dawn approaches, thousands of spent rockets are gathered on the Greek island, the Parisian art exhibit has lost its glimmer, the 9 / 11 lights are extinguished, the now exhausted Nepalese storyteller heads home, and the villagers of Atzompa depart through the cemetery arch, until next year's Dia de los Muertos.

Acquainted with the Night takes the viewer on much more than a cross-cultural journey traversing the exotic and the familiar, and then back again. It opens our minds to a sampling of what most of us miss between going to bed, and arising for work the next day. It inevitably encourages many to re-evaluate an unnecessarily staid lifestyle, through examining a world not previously known to exist. It ensures that we expose our youth to more, yet at the same time cautions, and raises questions - with answers difficult to reconcile.
---
Alvin Starkman is a consultant to documentary film production companies. He received his Masters in Social Anthropology in 1978. After teaching for a few years he attended Osgoode Hall Law School, thereafter embarking upon a career as a litigator. Alvin now resides in Oaxaca where he writes, leads personalized tours to the villages, markets, ruins and other sights, and operates Casa Machaya Oaxaca Bed & Breakfast, combining the comfort and service of a Oaxaca hotel with the lodging style of a quaint country inn.
This page has been visited times since November 5, 2010.
---
| Top of page | Main index | Search | What's new |