To get to Santiago Pinotepa Nacional, I took an Estrella Blanca first class bus from the Ejido station in Acapulco. I bought the ticket, conveniently, at a travel agency near the Zocalo in Acapulco. I found the address and a map showing it in either the Moon or LP guidebook. The ticket cost 142 pesos.


I left at 7:25 a.m. and arrived in Pinotepa Nacional at 1-2 pm. There were some outrageously violent movies showing on the ride. But the bus was comfortable, with air conditioning and big, plushy seats. Not far outside of Acapulco we had to get off the bus while police checked luggage. It was a minor inconvenience.


The bus station in Santiago Pinotepa Nacional is new and located north of the main town. It's about 1 mile to the Zocalo from the station (15 pesos by taxi and 3 pesos by Urbano). The station houses three different bus types, Estrella Blanca (first class), second class buses and camionettas to surrounding towns North of Pinotepa Nacional. Across the street from the bus station and a little north is where La India restaurant is located. This is a great restaurant, very delicious food, comfortable seating area, clean and efficient wait staff. I had great meals for 50 pesos, but it runs 20-150 pesos with a large variety of items to choose from.


I stayed the first two nights at Las Gaviottas as it sounded like it was within walking distance to the bus which it was. It's a plenty comfortable hotel and cost me 150 pesos with a fan/night (a/c is more). A fan seemed to cool down the room to my comfort level. I read in guidebooks that the hotel next to Las Gaviottas (PEPES) has a good restaurant. When I went there they were out of everything. I ate the first night at Las Gaviottas (before I found out about La India). I had fried chicken for 50 pesos which was not great, but filling and I didn't get sick.


To get to Pinotepa Nacional de Don Luis [about 20km], take a camionetta from the bus station mentioned earlier with this name on it. These are trucks that have two benches on either side of the truck bed and are covered on the sides and over the top with wood slates. They are comfortable and the drivers are usually good. You can also sit in the front seat with the drivers sometimes which is a little more comfortable. Sometimes there are two levels of seats in the front of the truck. I couldn't sit in the second level as it would have been too uncomfortable for my legs (I'm not tall, but room is very limited in the seats behind the driver.)


It's about 45 minutes to Pinotepa Nacional de Don Luis via camionetta. The landscape is very pretty with oak trees and gently climbing hills (it reminds me of Northern California foothills except for the cactus). The trip costs 20-25 pesos. They let you off in front of the market. I went to the market to see Teresita Avendando who makes and sells woven items. I asked for her at the market and they went to get her. She showed me some of her items. She grows and processes naturally colored cotton (coyuche). She sells these at the market. They are all handspun with spindles and are beautiful! She started with a price of 2000 pesos for a large dress, but will bargain down. She also sells pozahuancos which have been dyed with cochineal and caracol (sea snails.) They are striped pieces of cloth that are worn as skirts like a sarong. They are dark blue, lavender and red. You can buy a purse using the same color patterns as the pozahuancos, but made with manufactured fibers (60 pesos for small and 250 pesos for larger.) You can probably bargain these down also. One of the women had a beautiful white dress length huipil all hand woven out of commercial fiber on a backstrap loom. She was asking 1500 pesos for it.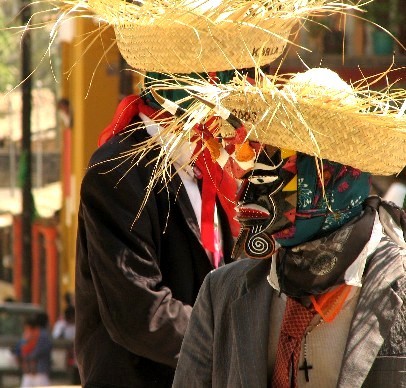 Carnival in Pinotepa Nacional de Don Luis More Photos

To get to San Juan Colorado take a camionetta from Pinotepa Nacional de Don Luis (15 minutes, 7-10 pesos) or start from the station back in Santiago Pinotepa Nacional for 35 pesos (about 1 hour.) The road climbs quite a bit on this stretch. When I got to San Juan Colorado there wasn't much going on. I asked for weavings with no luck. Then I saw a woman outside a store finishing one and asked her what she was doing. She showed me some of her weavings and gave me the prices. Then she told me everyone in town wove. She had a pretty huipil dress that was brown and white striped with a beautiful yellow brocaded pattern on top. She gave me a starting price of 400 pesos for this dress. They are also using naturally colored cotton in San Juan Colorado and natural dyes. The brown part of the striped pattern is dyed with nuts. This is an arduous process as it takes a lot of nuts to dye a small amount. The brocaded patterns are only slightly visible on the under side of the weaving, so their method of weaving is very finished. Walking further in the town, I met another lady who wanted to know if I was interested in seeing more weavings. She said she was the head of a cooperative of women who weave. I made an appointment with her early in the morning on the day of carnaval. Her name is Felipa Hernandez Reyes and the name of the cooperative is Yuku Savi which is a Mixtec word. She had a beautiful hand spun naturally colored cotton shawl that she was selling for 2000 pesos in addition to dresses dyed with nuts and brocaded with purple commercially processed fibers. I bought a beautiful shawl dyed with nuts and flowers for 400 pesos. I'm sure if one went to the town and asked for her you'd be directed to her house.

---