Home >> Index >> Hurricane Pauline >> Disaster Relief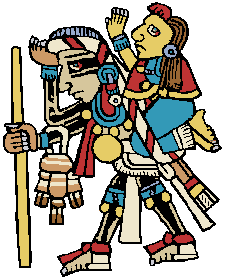 The following post appeared in the newsgroups rec.travel.latin-america and soc.culture.mexico on 10/9/97:
Hurricane Pauline: Oaxaca a Disaster Area; 28 Dead in Acapulco; [the count has risen] heading up coast; Red Cross on the Scene
According to Reuters, Televisa reported that thousands of families in Oaxaca were left homeless by the storm and that many of the smaller buildings in the resorts of Puerto Angel and Zipolite had been virtually destroyed.
Oaxaca state Gov. Diadoro Carrasco said late Wednesday that two children might have disappeared in Puerto Escondido, a town of 25,000 inhabitants 275 miles southeast of Mexico City. He declared the region a disaster zone.
At 3:00 p.m., a Reuters bulletin listed 28 dead in Acapulco from the storm, citing the Red Cross as the source. The storm, with winds exceeding 100 mph, was expected to hit the tourist resort of Ixtapa-Zihuatanejo shortly after 1 p.m.
Because the eye of the storm was moving up the coast, Pauline was still able to feed off the Pacific's warm waters, experts said. U.S. weather forecast maps on the Internet showed Pauline as likely to head along Mexico's Pacific coast, battering Manzanillo and Puerto Vallarta on Saturday before hitting the southern tip of Baja California on Sunday.
This morning I talked with Gina Espinosa in Puerto Escondido. I asked how she was and if there was anything my wife and I could do for her. She said she was fine but that a lot of homes had been damaged or destroyed. If we want to help, she suggested, it would be best to do it through the Red Cross. The Red Cross was taking care of the victims of Hurricane Pauline.
For the past three days, as government officials in Oaxaca and along the coast prepared for the onslaught of Hurricane Pauline, both officials and the press kept referring to preparations the Red Cross was making. News services continue to quote the Red Cross as the authority on damage and casualties.
There was considerable press speculation before the storm hit last night whether the Mexican government's disaster relief programs would be up to the task they would face. Their response in general was that they were shipping water and supplies to the areas that would be most affected. But they invariably shifted the focus by saying the Red Cross was preparing.
My point is simply that the Red Cross is the agency that is helping. If one day you happen to have an extra $10.00, you could be pretty sure the Red Cross could put it to good use.
_____________________________________
Brian J. Larkin - 1301 20th Street NW
Washington, DC 20036 - 202 296-3205
(also) | BJLarkin@Juno.Com
---
Here's a copy of a letter from an American Red Cross manager 10/20/97:
Dear Dr. Larkin,
In response to your e-mail communication to Mr. Douglas Evans, I would like to thank you for your interest and concern regarding Hurricane Pauline in Mexico.
I am a project manager for this region and work within the relief & development unit in the International Services department of the American Red Cross. As is the case in most disasters of this magnitude, there has been a substantial amount of confusion in the general public about what services the American Red Cross provides and the relationship we have with our sister National Societies. In the case of Hurricane Pauline, we have responded to the specific requests and appeals from the Red Cross of Mexico, which is one of the primary relief agencies in the country.
We have received a substantial amount of calls regarding in-kind (non-cash) donations and from skilled people that would like to contribute their time to this relief effort. We respect these genuine offers of assistance, however, we must also respect the requests and needs of the Mexico Red Cross, whom are guided by the same fundamental principles of the International Red Cross Movement.
In this disaster, the Mexican Red Cross has specifically stated that they do not need certain in-kind donations, such as clothing, etc. that would be an additional burden, on their already overtaxed logistics system. They have requested specific items, which the American Red Cross could provide rapidly and with donated transportation, which is limited and is extremely valuable cargo space-available.
We have stated that the fastest way to provide assistance to the victims of the Hurricane is through a financial donation, which is basically true, considering that most relief supplies are readily available for purchase, at a lower cost, in Mexico. In this way we are also able to support local industry and small businesses in the effected areas, so that they will be able to get back on their feet much more quickly economically. In many cases, they also provide tax free discounts and donated materials as well.
In regards to volunteers, the Mexican Red Cross has more than 500 volunteers in the disaster areas, in addition to their existing delegation headquarters inn Oaxaca, Guerrero, Chipas and Acapulco. If we receive a specific request from the Red Cross of Mexico for additional personnel, we will immediately forward this request to our chapters in the U.S. , whom will provide skilled candidates for this request.
As is the case of domestic disaster services, we endeavor to work in a standard, established and systematic approach, which we try to make the most efficient and cost effective. We also offer referrals to other relief agencies, because we would like to avoid duplication of services in given areas. Some of these organizations are also better equipped to handle certain types of in-kind donations and to process volunteer's requests for a relief assignment. I hope this answers some of your questions and concerns regarding our relief efforts in Mexico.
Best Regards,
Jay P Jones
---
Link to Red Cross.
More storm damage details.
| Top of page | Main index | Search | What's new |
---
The Pacific Coast of Mexico

www.tomzap.com

Tom Penick:&nbsp tom@tomzap.com