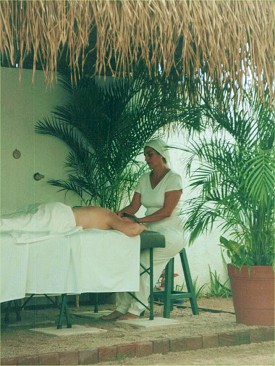 Lucero giving massage More Photos
&nbsp
Experience the best deep relaxation therapy in a quiet, peaceful palapa.

Massage is one of the most ancient curative arts. Today it is considered a potent method to combat the stress of modern life, tension, and sickness. It can restore good health and vibrant energy.

Massage eliminates physical fatigue and mental weakness, soreness of the back, neck, shoulders, etc. It improves the circulation of the blood, lymphatic fluids, vital fluids, and most physical abnormalities. All of this helps maintain radiant youth and enhances the quality of life itself.

I'd love to explain how good you will feel after you indulge in a Deep Tissue Massage, but I can't. Some things just have to be experienced. Try it once, and you'll always return!

Accommodations are available at Casa Holistica Sol with all therapeutic massage services onsite.