Home >> Jalisco >> La Manzanilla >> La Catalina School
La Catalina School

La Manzanilla, Jalisco

Address: Rufino Tamayo #328, La Manzanilla, Jalisco, Mexico, CP 48898
Contact: Julie Catton Amezcua, Director
Telephone: (315) 351-5540 (Mexico), (553) 423-0314 (Mexican cell phone)
Skype: la catalina school
Email: info@lacatalinaschool.com
Web: www.lacatalinaschool.com

Private and Group Instruction
Spanish Immersion programs
Children's Spanish Camp
Teen's Spanish Camp
Homestay Program
Cultural Events
Excellent Well-Trained Staff
La Catalina School, located on the beautiful coast of Jalisco, Mexico, provides students with the finest opportunity to learn Spanish in a short duration of time through our natural language & cultural immersion programs. We offer one to four week Spanish courses for beginning to advanced level students. We have a children's Spanish camp for kids ages 5 - 12 and programs for teens.

In addition to daily classes, our school provides many opportunities to learn Spanish outside of the classroom through participating in activities with the local people such as volunteer work, homestays with Mexican families and cultural events. In their free time, students enjoy the sunny weather, beaches and tropical ambience.

At La Catalina School, we use a powerful and effective method that will allow learning Spanish to be an easy and natural process for you. Unlike many schools, the emphasis is not on grammar, but rather on improving your fluency level through natural and meaningful familiarization of the Spanish language. This is accomplished through exposure, usage and right practice.

Most of our Spanish teachers at La Catalina are also teachers in our local elementary school, middle school and kindergarten. They come to us with a strong background in teaching and receive extensive training in applying our natural language teaching methodology.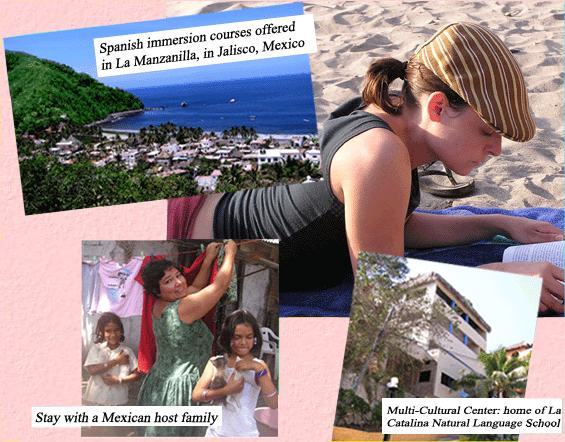 This page has been visited times since December 26, 2015.
---
| Top of page | Main index | What's new |