Home >> Jalisco >> Melaque >> San Patricio by the Sea
Multi-demominational services
English-speaking
Community Outreach
Meets at 10:00 am Sundays




St. Patrick's by the Sea
Directions to San Patricio by-the-Sea
Located 5 blocks toward the beach on Reforma from the new Pemex on the highway (near the lagoon and soccer field). GPS 19°13.52'N 104°41.89'W.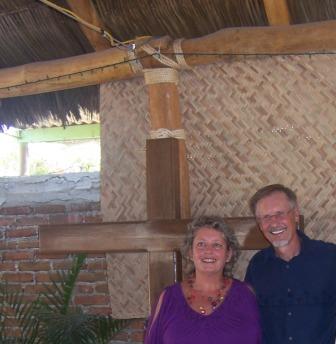 Ron and Nancy Klein
Background
Until 1998, there was no English speaking church available for worship within a 4 hour drive of the El Tequan/Manzanillo area of Jalisco Mexico to serve the more than 10000 + American-Canadian residents and visitors.

Richard and Nancy Lennie gathered a group of dedicated Christians to meet regularly in their hotel and home. Max Nye, a retired ordained Episcopal priest who visited the area seasonally, graciously agreed to conduct services on Sundays for three months in 1998-99 and 1999-2000, the remainder of the time services were conducted by lay volunteers. Two season, 2000-01 and 2001- 02 we were blessed with Tony and Raquel Welty, a bilingual husband and wife pastoral team who are both retired ordained Presbyterian ministers. In 2003-04 Ken Smith, a retired ordained Presbyterian minister, conducted our services for five months. For the 2004-05 season John Aasman, an ordained Christian Reformed minister conducted our services.

We added a second service to accommodate the increasing attendance. John and his family, returned for 4 months this season of 2005-2006. Our new Pastor Ron Klein and his wife Nancy have joined us for the remaing two months of this 2005-2006 season and will be returnng in the fall to lead us for the 2006 - 2007 season. In the fall of 1999 we outgrew the Lennie's home La Paloma and moved our services to a loaned palapa (thatched roof building with no walls).

In 2001 we had to vacate the loaned palapa. We then moved to a small lot that was offered to us on a temporary basis at a minimal rent and we constructed our own inexpensive palapa with a brick floor and storage room. In the seasons following we were able to add a new altar, electricity, bathroom facilities and expand our brick flooring to accommodate our growing attendance. This coming summer we will again expand our brick floor and palapa roof.

Some of our congregation live here full time, some are here for the 4-6 month winter season and some are here for a 1-10 week vacation. Although we come from many different Christian denominations, we exist as a mission of the National Presbyterian Church based in Mexico City. Our statement of faith is the Apostle's Creed.
This page has been visited times since August 25, 2006.
---
| Top of page | Main index | What's new |